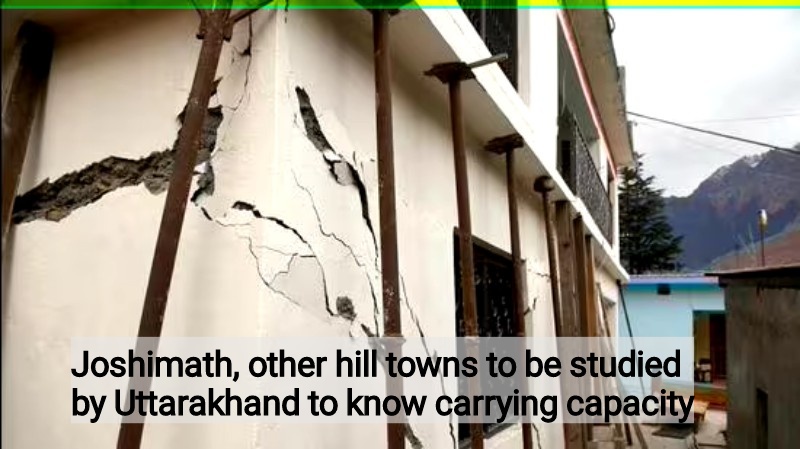 Pushkar Singh Dhami, the chief minister of Uttarakhand, announced on Wednesday that the state government will indeed study the carrying capacity of Joshimath and other hill towns in the region, after buildings in the holy city started to crack as a result of land subsidence.
Dhami stated that he has been emphasising the development of the state with a 'balance between economy and ecology' in a press conference with reporters after arriving in Joshimath in the evening.
'We will conduct studies on the carrying capacity of Joshimath and other hill towns of the state. If there are more constructions than the carrying capacity of the towns, then constructions will be immediately stopped in such towns,' he said.
According to Dhami, a total of 45 crore has been made available to help 3,000 affected families in Joshimath with interim relief.
According to Dhami, compensation will be provided to those affected by land subsidence in Joshimath at market rates.
'The market rate will be decided after seeking suggestions from the stakeholders and locals. A total amount of Rs. 45 crore has been released for providing interim compensation to 3000 affected families in Joshimath. For the time being, interim assistance of Rs. 1.50 lakh per family is being given. An advance amount of Rs. 1 lakh is being given to the affected families before their rehabilitation. An amount of Rs. 50,000 is being given to the affected families in the form of a one-time special grant for the transportation of their belongings. This amount was released by the Uttarakhand State Disaster Authority,' he said.
In order to assist the families in Joshimath who have been affected by the disaster, the chief minister has also donated one month's salary to the chief minister's relief fund.
Dhami claimed that rumours about the demolishment of homes with cracks are being spread. 'I appeal to all not to pay heed to these rumours. No action is being taken to demolish the houses having cracks in the affected area. I have directed the chief secretary not to demolish the houses with cracks in the affected area unless it is unavoidable,' he said.
The chief minister claimed that regarding every arrangement in Joshimath, he receives regular reports from the officials. Dhami claimed he had given the chief secretary instructions to quickly find solutions to all of the affected people's problems after speaking with them.
According to a report by the news agency PTI, 131 families have so far been relocated to temporary relief centres in Joshimath, and the town now has 723 damaged homes.