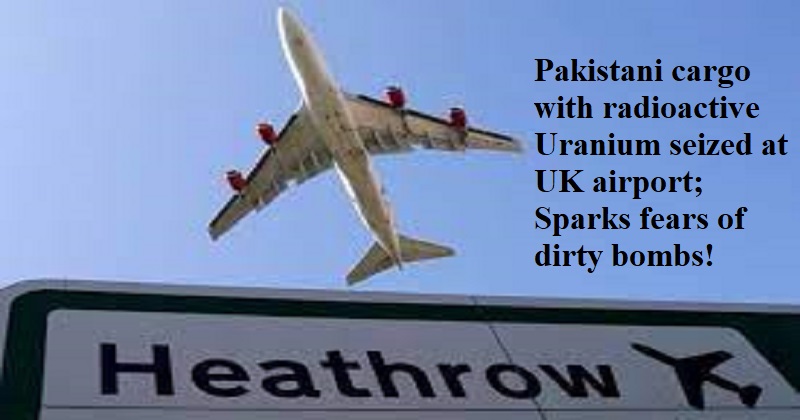 A cargo shipment from Pakistan that included several kilos of uranium that might possibly be used to make a dirty bomb was intercepted at Heathrow Airport in the UK, according to The Sun. Uranium was shipped from Pakistan and then arrived at Heathrow's Terminal 4 on a passenger aeroplane operated by Oman Air out of Muscat. Following a regular inspection on December 29, the radioactive material-containing package was found at the UK airport.
The Uranium shipment that was discovered in the Heathrow Cargo area was addressed to a UK company with connections to Iran. An extensive counterterrorism investigation has been opened. Once they realised it was uranium, Border Force agents quarantined the shipment in a radioactive chamber and called in counterterrorism personnel.
According to the Met Police, 'a very small amount of contaminated material was discovered during routine screening inside a package arriving in the UK on December 29, 2022. We can confirm officers from the Met's Counter Terrorism Command were contacted by Border Force colleagues at Heathrow,' the police department told UK-based media outlet MailOnline. According to Dailymail Online, Commander Richard Smith stated that the amount of polluted material was 'very little' and that scientists determined it didn't pose a risk to the general population.
'Although our investigation is still underway, so far, it doesn't seem to be connected to any immediate threat. To make sure that this is unquestionably the case, we will keep looking into every avenue of inquiry', the commander stated. The shipment's finding has sparked concern about the potential use of Pakistan as a transit country for nuclear material smuggling. A naturally occurring element called uranium may be enhanced or purified using centrifuges so that it can be utilised for nuclear-related reasons.
Concerns over Pakistan's management of nuclear material have also been raised in light of the event. The unlawful spread of nuclear technology and materials has a troubled history in Pakistan, where multiple instances have been documented. The world was astonished to find in 2004 that Abdul Qadeer Khan, the man responsible for Pakistan's nuclear weapon, had been operating a nuclear black market for more than ten years and had given nuclear secrets to nations like Iran, Libya, and North Korea.