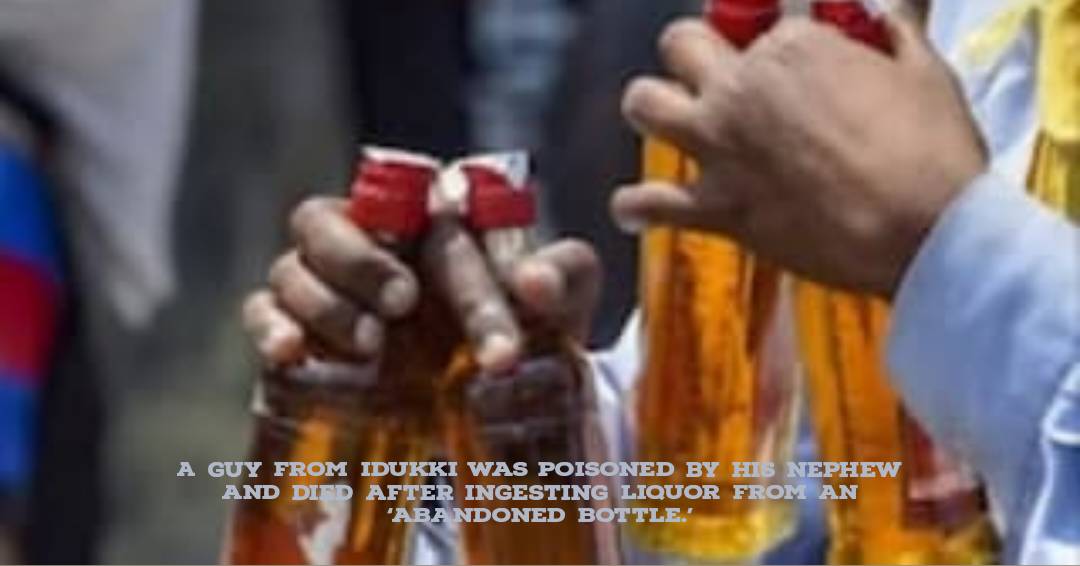 In the recent event where a few young men had to be hospitalised after they allegedly drank alcohol from a liquor bottle found on the road near Adimali, a disturbing murder angle has surfaced.
After one of them died while receiving treatment at the Kottayam Medical College Hospital, a police investigation established that he had been murdered by his nephew who had injected pesticide into the alcohol.
Padayattil Kunjumon, 40, was killed, and Sudheesh (24), the suspect, has been brought into prison by the police.
Sudheesh, an Adimali inhabitant, hated Manoj on a personal level. The accused used a syringe to inject insecticide into a pint of rum after purchasing it, puncturing the cap to get retribution. The hole was then wax-sealed by Sudheesh.
Last Sunday, after drinking alcohol laced with pesticides, his uncle Kunjumon and two friends, Anilkumar and Manoj, were admitted to the Kottayam Medical College.
Sudheesh had previously called Manoj and given him the bottle, telling him that he had found it on the road. Sudheesh's strategy, however, quickly failed when Anilkumar and Kunjumon, two of Manoj's buddies, chose to drink directly from the bottle.
After becoming exhausted and throwing up, the three were taken by ambulance to the Adimali Taluk Hospital and then to the Kottayam Medical College Hospital.
Sudheesh attempted to light the bottle on fire to hide evidence. During the questioning conducted by Deputy Superintendent of Police Idukki, he admitted to the crime.