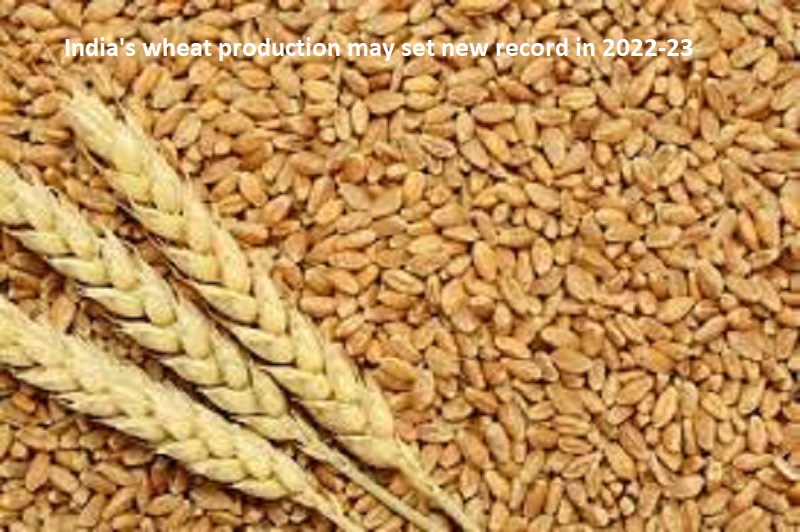 New Delhi: Data released by the Union Agriculture ministry revealed that the wheat production in the country may set a new record in 2022-23. The wheat production may touch 112 million tonnes in the 2022-23 crop year (July-June).
Wheat production in the country  had declined to 106.84 million tonnes in 2021-22 crop year. This was due to heat wave in key growing states.In 2020-21, the country had achieved record wheat output of 109.59 million tonnes.
Also Read: Full schedule of 2023 FIH Men's Hockey World Cup released
According to data, farmers have sown wheat in 332.16 lakh hectare (ha) till January 6 of the current rabi season of the 2022-23 crop year (July-June). It was at  329.88 lakh ha during the same period last year. Higher coverage was reported from Rajasthan (2.52 lakh ha), Uttar Pradesh (1.69 lakh ha), Maharashtra (1.20 lakh ha), Gujarat (0.70 lakh ha), Chhattisgarh (0.63 lakh ha), Bihar (0.44 lakh ha), West Bengal (0.10 lakh ha), Jammu & Kashmir (0.06 lakh ha) and Assam (0.03 lakh ha).
Sowing of wheat, had begun from October onwards. The e harvesting will start from March/ April. Wheat is the main rabi (winter) crop in India.