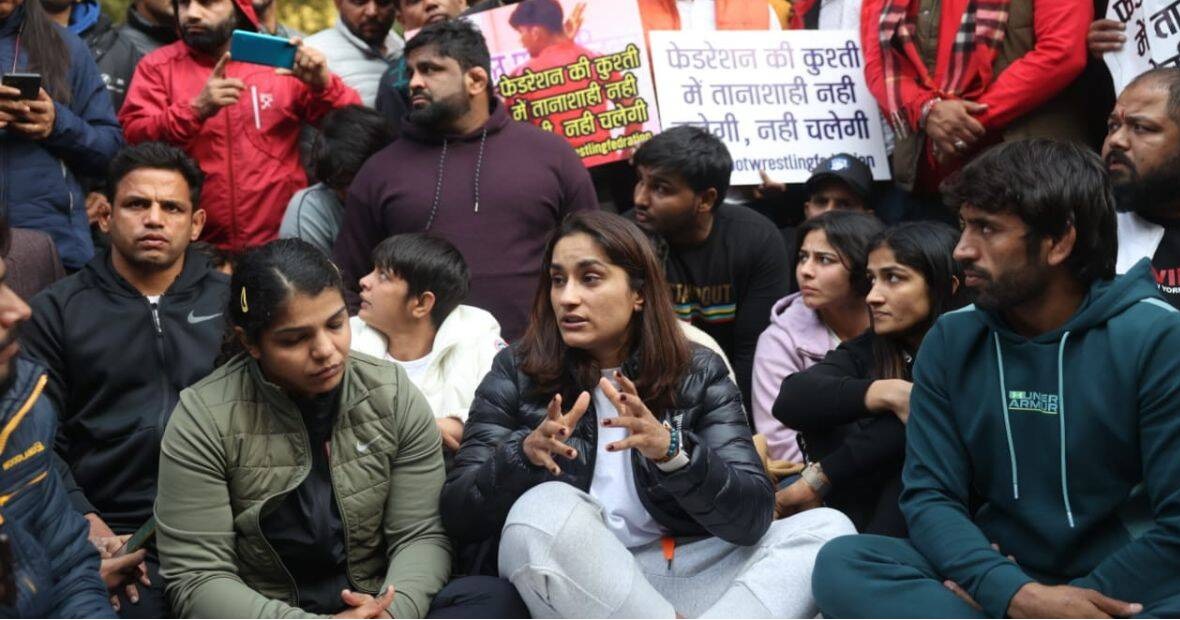 New Delhi: The country's ace wrestlers on Thursday doubled down on their ongoing protest against the Wrestling Federation of India (WFI) over allegations of sexual exploitation of multiple athletes over the years by the federation chief and several coaches stating that they will continue to protest until their demands are met.
'Today is the second day of our protest and we haven't got any satisfactory response from the government. We will make sure Brij Bhushan Singh resigns and is jailed. We will also file a case', wrestler Vinesh Phogat said while addressing the media at Jantar Mantar here.
Vinesh Phogat had previously alleged that coaches who are favourites of the Wrestling Federation of India (WFI) misbehave with women wrestlers and harass them. She also accused the WFI chief Brij Bhushan Sharan Singh of sexually exploiting women athletes and calling her a 'khota sikka' after her defeat at the Tokyo Olympics 2020. Singh has denied the allegations. The Union Sports Ministry has sought an explanation from WFI and directed it to furnish a reply within the next 72 hours on the allegations made. Also, a meeting of the Executive Committee and the Annual General Meeting (AGM) of the WFI is slated to be held on January 22 in Ayodhya, Uttar Pradesh and its chief Singh will participate.
Olympian wrestler Bajrang Punia said today, 'Five to six women wrestlers are here with us who have faced these atrocities and we have evidence to prove it'. Earlier today some of the ace wrestlers went to office of Union Sports Ministry in Shashtri Bhawan for a meeting with ministry officials. However, they remained unsatisfied. Olympic champion wrestler Sakshee Malikkh said, 'Government did not promise any action, they have only given assurance and we're not happy with the response, we request PM sir to ensure justice'.
Champion former wrestler and Haryana BJP leader Babita Phogat reached the protest site today to meet the wrestlers as a mediator from the government and assured the grapplers that their demands will be met. 'I have assured them that the government is with them. I will try that their issues are resolved today', Babita said. 'Babita Phogat has come from the government's side for mediation. We will speak with her and then give more details', wrestler Bajrang Punia said.
Shortly after Olympians and star wrestlers Sakshee Malikkh, Vinesh Phogat and Bajrang Punia made sensational claims against the WFI officials and coaches, accusing them of harassment, Delhi Commission for Women (DCW) chairperson Swati Maliwal issued a notice to Delhi police and the Union Sports ministry on the matter. 'Sportspersons work hard to win medals for the country, but the Federation has done nothing but let us down. Players are being harassed by imposing arbitrary laws', Sakshee Malikkh tweeted.
The Wrestling Federation of India is headed by Brij Bushan Singh – a Lok Sabha MP from the country's ruling BJP, as the President. Singh on Wednesday said wrestlers, who made allegations of sexual harassment against coaches, should have approached the Federation with their names earlier. The WFI president said that 97% of wrestlers are with the BFI and those protesting were pressured into it. He claimed that star wrestler Vinesh had demanded a few days back that the chief coach should be changed, adding that coaches cannot be changed on the whims of a player. The WFI president said that 97% of wrestlers are with the BFI and those protesting were pressured into it. '97% of players are with the WFI. I am hurt by the sexual harassment allegations. Not a single player can bring such charges against me or the chief coach. Some wrestlers were pressured to sit on a dharna', Singh said.