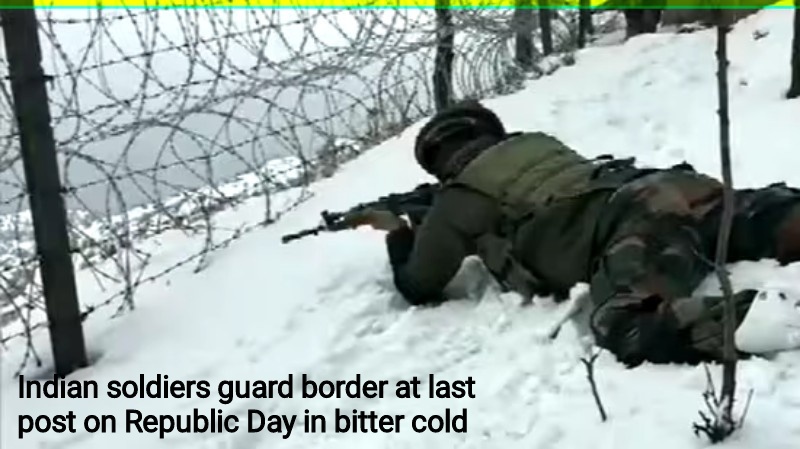 Indian Army soldiers stationed in Jammu and Kashmir are prepared to celebrate the 74th Republic Day despite the freezing weather and snowfall. An Indian Army soldier is seen patrolling at the last post in Jammu and Kashmir in a video posted by the news agency ANI, which is 7,200 feet above sea level and covered in thick snow.
The Indian Army's jawans are unfazed by the freezing conditions in the Kashmir Valley and maintain a high level of zeal despite the challenging circumstances.
During the Republic Day parade on Kartavya Path on Thursday, Captain Raizada Shaurya Bali will lead the first contingent in the uniform of the 61 Cavalry in New Delhi. With the amalgamation of all the 'State Horse Units,' the 61 Cavalry is the only currently active horse cavalry regiment in the world.
Six marching contingents, nine mechanised columns, a mounted column of 61 cavalry, and Advanced Light Helicopters (ALH) of the Army Aviation Corps will all serve as representations for the Indian Army. The main attractions in the mechanised columns will be the Main Battle Tank ARJUN, NAG Missile System (NAMIS), Infantry Combat Vehicle of BMP-2 SARATH, Quick Reaction Fighting Vehicle, K-9 Vajra-tracked Self-Propelled Howitzer Gun, BrahMos missile, 10m Short Span Bridge, Mobile Microwave Node & Mobile Network Center, and AKASH (New Generation Equipment).
The Mechanised Infantry Regiment, The Punjab Regiment, The Maratha Light Infantry Regiment, The Dogra Regiment, The Bihar Regiment, and The Gorkha Brigade are among the six marching contingents of the Army that will pass the saluting dais.