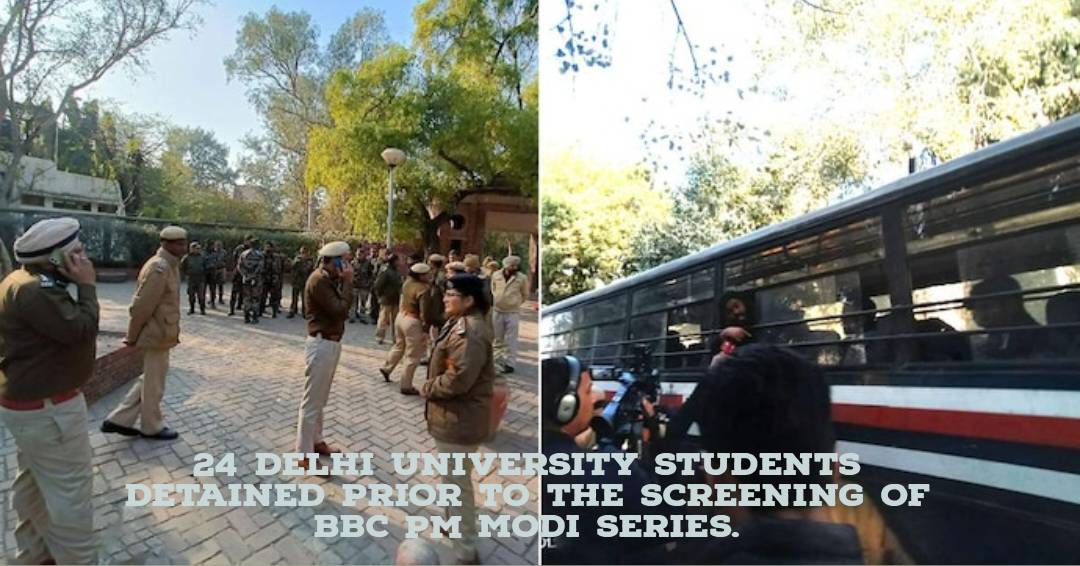 24 Delhi University students were detained outside the Faculty of Arts on Friday before the contentious BBC documentary on Prime Minister Narendra Modi was to be shown.
The screening 'may cause disturbance of peace and serenity in the neighbourhood,' said the police, who also imposed Section 144 of the CrPC in the area.
When the students who had come to view the video refused to part ways, they were taken into custody.
Days earlier, there had been a similar uproar over the documentary screening at Jamia Millia Islamia and Jawaharlal Nehru University.
After students' groups (NSUI-KSU) issued a call to screen the documentary, there was a significant police presence on the university's north campus.
Several students said that Delhi Police officers also entered the campus of Ambedkar University to prevent Students' Federation of India (SFI) members from showing the video, despite the group making alternative plans to watch it on phones and laptops.
However, according to police authorities, they are visiting all of the district's colleges and universities to maintain the peace and quiet.
The government-run varsity's administration, cut off the power supply, preventing the screening from taking place. However, students were given a QR code with a link to the movie so they could access it on their own devices, said Left-affiliated SFI.