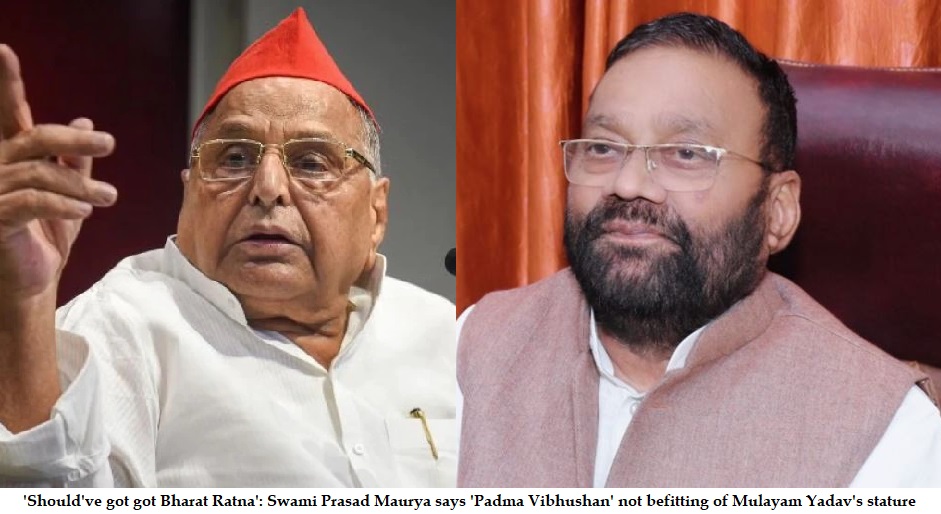 Lucknow: Samajwadi Party (SP) leader Swami Prasad Maurya on Friday targeted the BJP-led central government, saying the Padma Vibhushan award doesn't do justice to the persona and standing of the late party patriarch Mulayam Singh Yadav as he deserved the Bharat Ratna.
Annoucing this year's picks for the coveted Padma awards on the eve of the 74th Republic Day, on Wednesday, the Centre named the former Defence Minister and Uttar Pradesh chief minister for Padma Vibhushan, the second-highest civilian honour in the country after Bharat Ratna. The late SP stalwart, a long-time Parliamentarian, passed away last year after prolonged illness.
Speaking to mediapersons in Lucknow on Friday, the SP leader, who was formerly with the BJP, said, 'Netaji Mulayam Singh Yadav should a 'Bharat Ratna'. The 'Padma Vibhushan' is not beffting of his stature and personality. The government still has time to honour him with a Bharat Ratna'. On his recent remark, demanding deleting of certain 'insulting comments and sarcasm' in Ramcharitmanas, a poem on the epic Ramayana, Maurya said, 'I respect all religions. I merely objected to certain verses in Ramcharitmanas which hurts the sentiments of 97 per cent Hindus. Those verses reflect poorly on our own religion. They also advocate killing women and the Shudras. This is nothing but an abuse and no religion should stand for such abuse and insult'.
'I just sought the deletion of a few lines that are disrespectful of women, Adivasis and the Dalits. All communities are being disrespected in the state since the SP was voted out of power. After the BJP came to power, 5, Kalidas Marg (the CM's official residence in Lucknow) was cleansed with Gangajal (water from River Ganga)', added Maurya. However, he was quick to clarify that his remarks on the holy verses were his own and does not reflect his party's position.
Coming down heavily on self-styled godman Dhirendra Krishna Shastri alias Bageshwar Dham Sarkar, the SP leader said no religion should have place for such 'pretence' and 'hypocrisy'. The godman claimed that he would make India a 'Hindu rashtra' if he gathers enough public support to the cause and also exhorted people to practise 'Sanatan Dharma'. Earlier, an FIR was filed against Maurya at Lucknow's Hazratganj police station over his statement on Ramcharitmanas.