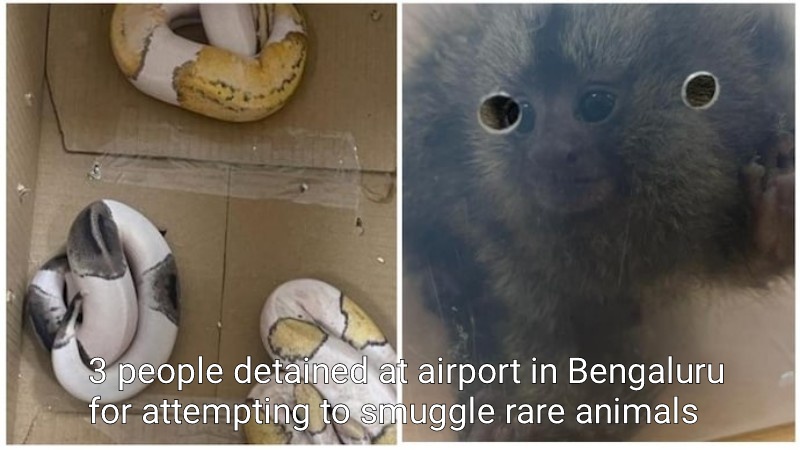 On January 22, after their luggage had been screened, the Directorate of Revenue Intelligence (DRI) officials arrested three passengers travelling from Bangkok to Bengaluru's Kempegowda International Airport. The DRI checked their checked luggage after receiving specific intelligence inputs, which led to the recovery of 18 non-native animals, including 14 reptiles.
The said passengers' attempted smuggling of animals was stopped by the Customs Act's provisions.
Authorities recovered several rare species from the trio departing from Thailand in an unprecedented seizure. Officials from the Karnataka Forest Department helped with the seizure.
The Wildlife (Protection) Act prohibits the illegal transportation of wild animals, as well as the parts and derivatives of those animals. These species are governed by the CITES provisions because they are listed in the CITES Convention on International Trade in Endangered Species of Wild Fauna and Flora.
The authorities claimed that another 139 animals from 48 different species, including 34 CITES-listed species, were retrieved from a farmhouse in Bengaluru that was being used as a storage facility for similarly smuggled wildlife in a follow-up operation with the help of Karnataka Forest Department officials.
Evidence of financial transactions to source exotic wildlife through smuggling was found during the seizure. The Bannerghatta Biological Park received the recovered animals, which included some incredibly rare species like the yellow and green anaconda and the veiled chameleon, among others.
Four individuals who were involved in the smuggling were arrested. Officials stated that a further investigation was ongoing.