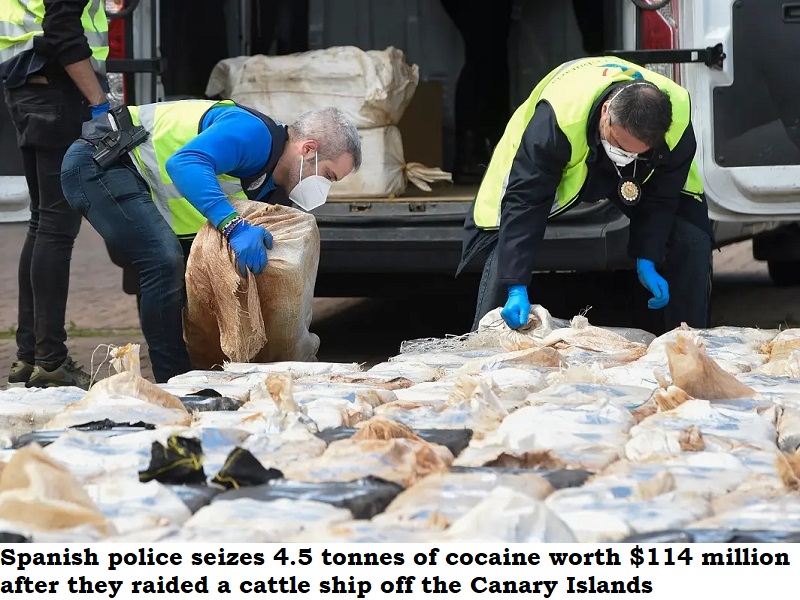 The Spanish police searched a livestock ship off the Canary Islands on Tuesday and found 4.5 tonnes (4,500 kg) of cocaine worth $114 million (105 million euros) (January 24). The Orion V cargo ship, which carried cattle from Latin America to the Middle East, was reportedly under observation for more than two years, the police claimed on Saturday (January 28).
According to the authorities, the ship was previously scanned and inspected but no narcotics were discovered despite the existence of significant clues, according to a story published on Saturday by the news agency AFP.
A joint operation on Tuesday- which included the Spanish police, the American Drug Enforcement Administration (DEA) and the Maritime Analysis and Operations Centre for narcotics (MAOC-N), located the cocaine hidden inside a container used to feed the cattle.
Visuals shared by the Spanish police showed officers walking inside the Orion V, discharging the packs of drugs, opening the packages and weighing them.
Also this month, the Spanish police busted a criminal gang that smuggled more than 5,000 tonnes of hazardous electronic waste from the Canary Islands to several African nations.