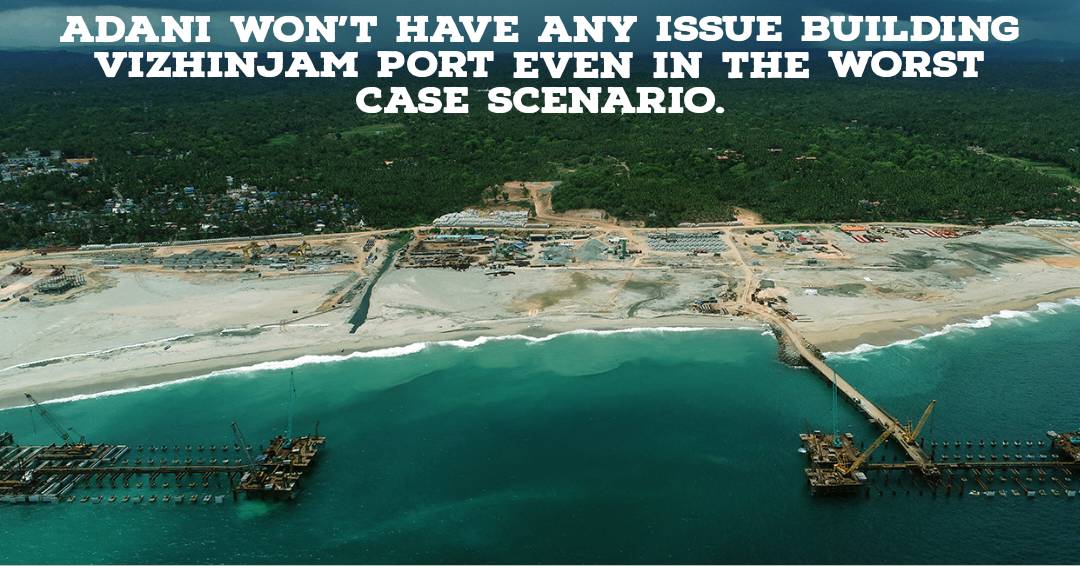 The Hindenburg Research research says, Gautam Adani's incredible wealth was created through stunning stock manipulation and accounting fraud.
Figures in the public domain demonstrate that Adani will have little issue putting the Rs 7,525 crore Vizhinjam International Deepwater Multipurpose Seaport into action, even if Hindenburg's conclusions prove to be accurate.
Reason: Adani is not being asked to accomplish anything in the Kerala-Adani Ports agreement. What Adani must invest in Vizhinjam is nothing compared to the enormous sums he manages. It is only a small portion—roughly 12%—of the tiny Rs 20,000 crore that Adani Enterprises Limited expects to raise via its most recent follow-on public (FOP) offering, which is only worth Rs 2,454 crore and is spread out over 40 years.
Adani appears to have convinced the Kerala government to carry out his wishes through various means, including as cost-sharing and a special payment known as a termination clause.
Core work (Rs 4,089 crore), 'financed' works (Rs 1,635 crore), and external infrastructure ( Rs 1,973 crore) make up the project's overall cost ( Rs 7,525 crore).
VGF bonanza
Adani's business should have paid an estimated Rs 4,089 crore for the main work, including dredging and reclamation, the construction of berths, roadways, substations, superstructures, and equipment.
However, just Rs 2,454 crore, or 60% of its total commitment, must be spent by Adani Ports. The remaining 40%, or Rs 1,635 crore, will be contributed by the government as viability gap finance (VGF).
VGF is a type of bait used to entice private investors who are wary about risky investments in large infrastructure projects.
Plan for reimbursement
Adani Ports must spend Rs 1,463 crore on the 3.1-kilometer breakwater and a new fishing harbour in addition to the core activities. Adani will need to come up with the money for these, but Kerala's government will fully repay him. That is why this component is referred to as 'financed works.'
Additionally, it was decided that the state would pay for all associated buildings, as well as the anticipated Rs 1,973 crore cost of the project's external infrastructure, including the road and rail networks that connect them to the project site.
In other words, the Kerala government contributed 67% of the investment (?5,071 crore) in the port, also known as the Adani port.