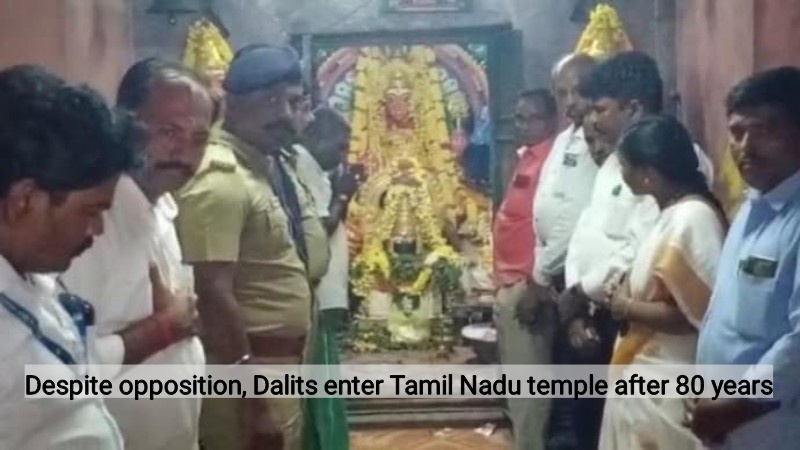 On Sunday, despite opposition from upper caste communities, nearly 300 members of the Scheduled Caste (SC) entered a temple in Tamil Nadu under full police protection.
A 12-day festival is held each year during Pongal at the Muthu Mariyamman Temple at Thandarampattu in Thiruvannamalai, which is managed by the Hindu Religious and Charitable Endowment Board.
But for the previous 80 years, Dalit families were denied access to the temple; this year, community representatives asked the village leaders for approval so that they could take part in the festival for one day and gain access to the temple.
They approached Hindu Religious and Charitable Endowments (HR&CE) authorities in Thiruvannamalai and filed a petition after the village heads refused, which sparked an investigation.
HR&CE officials made the decision to ensure that Dalits were permitted entry after learning that Dalits were not permitted inside the temple.
They wrote history on Sunday under the close protection of the police. Upper-caste communities voiced their displeasure after government representatives reaffirmed that everyone has a right to use temples.
A number of Dalit families entered the temple carrying garlands and ingredients for Pongal and received darshan from the deity.
On the anniversary of Mahatma Gandhi's passing, Chief Minister MK Stalin, Assembly Speaker Appavu, Cabinet ministers, DMK MPs and MLAs, the chief secretary, and other top government officials took an oath against untouchability.
This is the third instance this month in Tamil Nadu of Dalits entering temples with the help of HR&CE and district authorities.