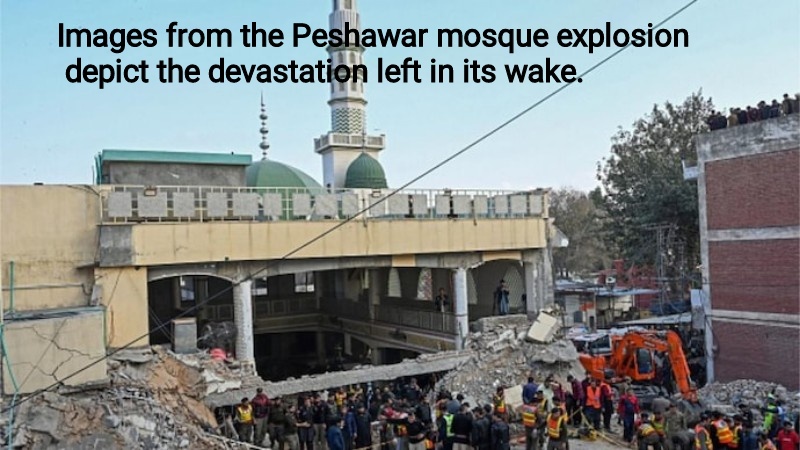 In a mosque explosion in Pakistan's Peshawar, at least 61 people were killed and over 150 injured, including police officers and an imam. Several people were trapped when a whole wall collapsed due to the explosion. Shebaz Sharif, the premier of Pakistan, described the explosion as a suicide attack.
Monday's afternoon prayers were when the explosion took place. A wall and a portion of the mosque's roof are seen collapsing in a video taken after the explosion.
At the explosion site, a rescue operation was launched right away. Visuals showed bodies being transported in ambulances and bloodied survivors emerging from the wreckage.
Some of those killed in the deadly explosion included police officers. According to news agency AFP, Peshawar police chief Muhammad Ijaz Khan stated that 'many policemen are buried under the rubble.' He calculated that between 300 and 400 officers typically participated in the mosque's prayers.
The former tribal regions that border Afghanistan and are now home to more militant populations are not far from Peshawar, the provincial capital.
The nation has been placed on high alert in the wake of the explosion, with checkpoints stepped up and additional security personnel deployed. Snipers were stationed on buildings and at city entrances in Islamabad.
'Terrorists want to create fear by targeting those who perform the duty of defending Pakistan,' Pakistan Prime Minister Shehbaz Sharif said.
'Those fighting against Pakistan will be wiped out from the face of earth,' he added.