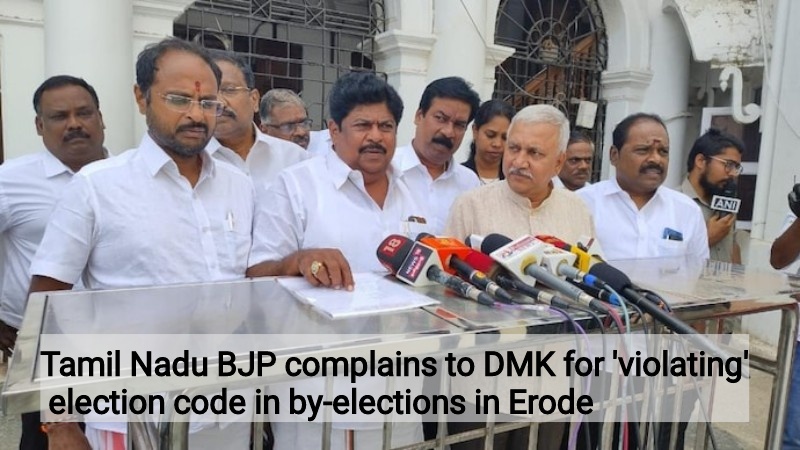 In advance of the Erode East by-election, a delegation led by Tamil Nadu BJP leaders KP Ramalingam, Paul Kanagaraj, and Narayanan Tirupathy met with Chief Election Officer Satyabrata Sahoo and filed a complaint against the ruling DMK over alleged Model Code of Conduct violations.
On Sunday, state BJP chief K Annamalai posted a video clip of an alleged conversation between Congress candidate EVKS Elangovan and senior DMK minister KN Nehru on his Twitter account. According to the BJP, both men were heard discussing money distribution in the Erode East constituency before the byelections.
Sharing the video clip, Annamalai said, 'DMK faces the election pinning their hopes on money power and they presume that anything could be bought with money.'
In response, the BJP has petitioned the Election Commission for action against the DMK and Congress officials.
In its complaint, the BJP requested that the Chief Election Officer send a notice to MK Stalin, the head of the DMK, asking him to explain why no action should be taken against the party and its leaders for allegedly attempting to break the Representation of People's Act of 1951, the Model Code of Conduct for Elections, and other laws.
'Initiate action to prosecute the DMK ministers for the alleged unconstitutional and attempt to introduce fraudulent corrupt practices, including but not limited to Chief Minister MK Stalin, VCK President Thol Thirumavalavan, EVKS Elangovan of Congress party, EV Velu, KN Nehru, Senthil Balaji of DMK party who are all ministers as per procedures of law,' the BJP further demanded.
The saffron party also demanded the immediate transfer of the Superintendent of Police and District Collector of Erode, as well as the appointment of a Central Special Observer and special squads in the constituency, in addition to urging the Election Commission to take all necessary measures to ensure that the elections are conducted in a free and fair manner.
Regarding the BJP's allegations, the DMK has refuted them and charged Annamalai with releasing a 'doctored audio clip' in an effort to sabotage the by-elections.