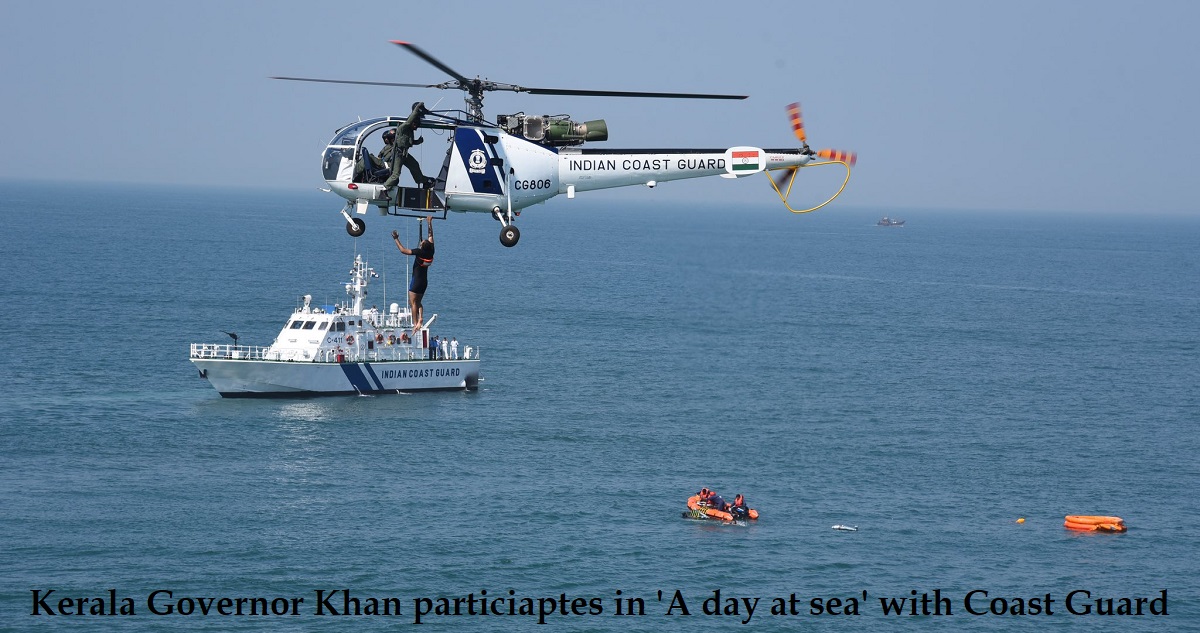 Kochi: Coast Guard District Headquarters (Kerala and Mahe) conducted a Day at Sea on its Raising Day on Wednesday, with Kerala Governor Arif Mohammad Khan as the Chief Guest. Arif Mohammad Khan reviewed the demonstration of the Coast Guard at sea.
The Coast Guard Ships Samarth took the Governor to the sea. Apart from Samarth, Sarang, Samar, Abhinav, Anagh, C-162, C-410, AB Urja Pravaha, Dornier, Advanced Light Aircrafts and Chetak Helicopters also participated in the events at sea. The Governor arrived at Coast Guard District Headquarters (Kerala and Mahe) on Tuesday for the 47th Raising Day of the Indian Coast Guard. He was received by DIG N Ravi, Coast Guard Dist Commander (Kerala and Mahe).
Indian Coast Guard is a multi-mission organization, conducting round-the-year real-life operations at sea. Despite being relatively small, it has a wide range of task capabilities for both surface and air operations. The organization is headed by the Director-General Indian Coast Guard (DGICG) exercising his overall command and superintendence from the Coast Guard Headquarters (CGHQ) located in New Delhi.
Prime Minister Narendra Modi on Wednesday extended his greetings to the Indian Coast Guard on its Raising Day. Indian Coast Guard (ICG) is celebrating its 47th Raising Day on Wednesday. 'Greetings to all Coast Guard personnel on their Raising Day. The Indian Coast Guard is known for its professionalism and efforts to keep our coasts safe. I also convey my best wishes to them for their future endeavours. @IndiaCoastGuard', tweeted PM Modi.