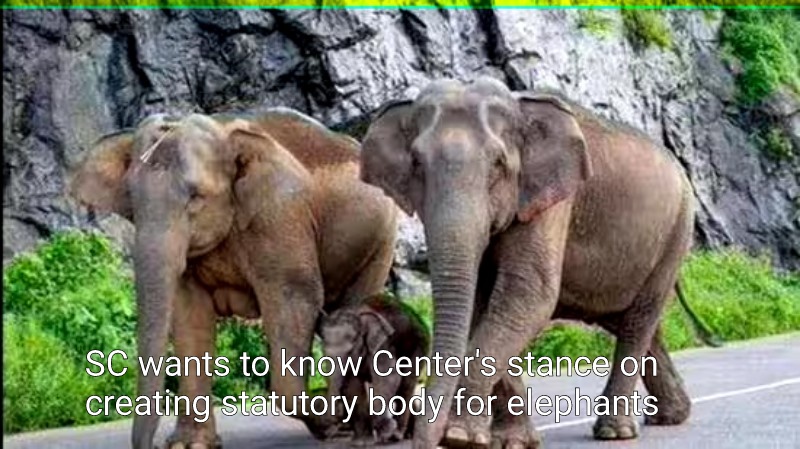 The National Tiger Conservation Authority (NTCA), which oversees the protection of elephants, is a statutory body. On Wednesday, the Supreme Court questioned the Centre about its intentions and requested a response within four weeks.
A bench led by Chief Justice of India (CJI) Dhananjaya Y Chandrachud heard a public interest litigation (PIL) brought by journalist Prerna Singh Bindra and two other activists. The bench stated, 'We direct that within four weeks the Ministry of Environment, Forests and Climate Change (MoEF&CC) shall specifically respond to recommendation made in the 'Gajah' report of 2010 on conferring statutory status on the proposed body called National Elephant Conservation Authority.'
The court ordered the Center, the Central Electricity Authority, and the concerned states to conduct a joint inspection in protected areas (including wildlife sanctuaries and national parks), elephant reserves, and the area around protected areas that are frequently visited by elephants, including elephant corridors, in light of the frequent electrocution deaths of elephants. They were also instructed to submit a report to the court.
Aishwarya Bhati, Additional Solicitor General (ASG), representing the Center, informed the court that the MoEF&CC in August 2019 accepted a number of recommendations made in the Elephant Task Force report from 2010 known as the 'Gajah report.' She claimed that as a result of the Center's actions, the size of the country's 32 elephant reserves has grown to over 77,000 square kilometres. She added that the Center has validated 52 percent of the 88 elephant corridors listed in the Gajah report, with the process still ongoing for the remaining corridors. She revealed that Project Elephant is run by a director who reports to the Ministry.
The bench, which was made up of justices PS Narasimha and JB Pardiwala commanded, 'Take instructions whether the recommendation in the report to convert Project Elephant into a statutory authority is being considered. We can give ad-hoc directions but that will not help.'
The petitioner, who was represented by attorney Kartik Shukul, emphasised the alarming number of electrocuted elephant deaths and the pressing need to protect the Asian elephant population, which is listed as an endangered species under the Wildlife Protection Act.
'The future of the Asian elephant (Elephas maximus), declared the National Heritage Animal in 2010, looks uncertain and bleak in India…The sheer number of elephant deaths due to electrocution go on to show the collective failure of the respondent governments in honouring the constitutional mandate of safeguarding the forests and wildlife of the country,' stated the petition filed through advocate Abhikalp Pratap Singh.