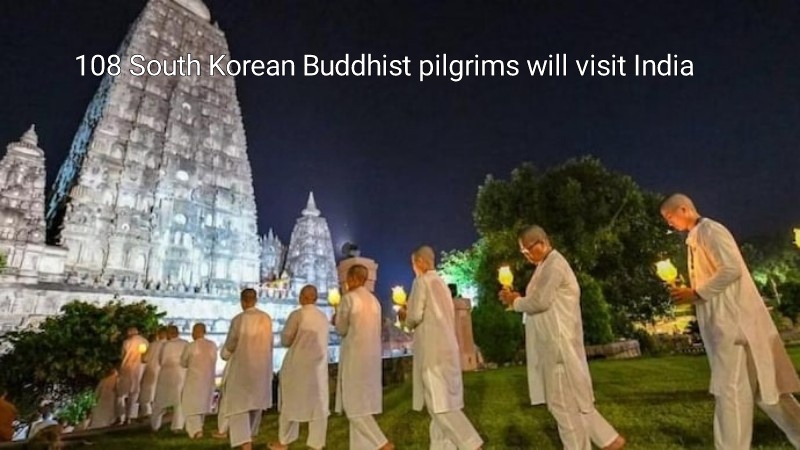 108 South Korean Buddhist pilgrims will visit India to mark the 50th anniversary of the establishment of diplomatic relations between the two nations. The pilgrimage was announced by the Ministry of Culture, which claimed that doing so would aid the nation in halting the spread of Chinese Buddhism and its influence in the area.
The tourists will travel to Nepal after visiting Buddhist pilgrimage sites in the Indian states of Uttar Pradesh and Bihar.
Apurva Chandra, secretary of the Ministry of Information and Broadcasting, announced on Monday that 108 South Korean Buddhist pilgrims will walk more than 1,100 km in 43 days as part of a walking pilgrimage planned by the Sangwol Society of South Korea.
Chandra added that the incident is significant because India and South Korea will mark 50 years since their diplomatic relations were established.
According to him, the pilgrimage aims to strengthen relations and cooperation between the two nations. He added that Prime Minister Narendra Modi had the vision to promote Buddhist tourism in India, the country of his birth, to the rest of the world.
The circuit aims to assist tourists in experiencing Lord Buddha's teachings firsthand and following in his footsteps while he was alive. The pilgrimage's destinations cover the Buddha's entire life, from his birth to his Parinirvana.
From February 9 to March 23, the tourists will travel for 43 days to Buddhist holy sites in India and Nepal. After passing through Nepal, the pilgrimage will end at Shravasti after starting in Varanasi's Sarnath.
The slogan of the pilgrimage is 'Oh, We! Oh, Love! Oh, Life!', the pilgrimage. Chang Jae-bok, the ambassador of South Korea to India, stated that as the two nations commemorate this significant anniversary of diplomatic relations, 2023 will be special for their bilateral relationship.