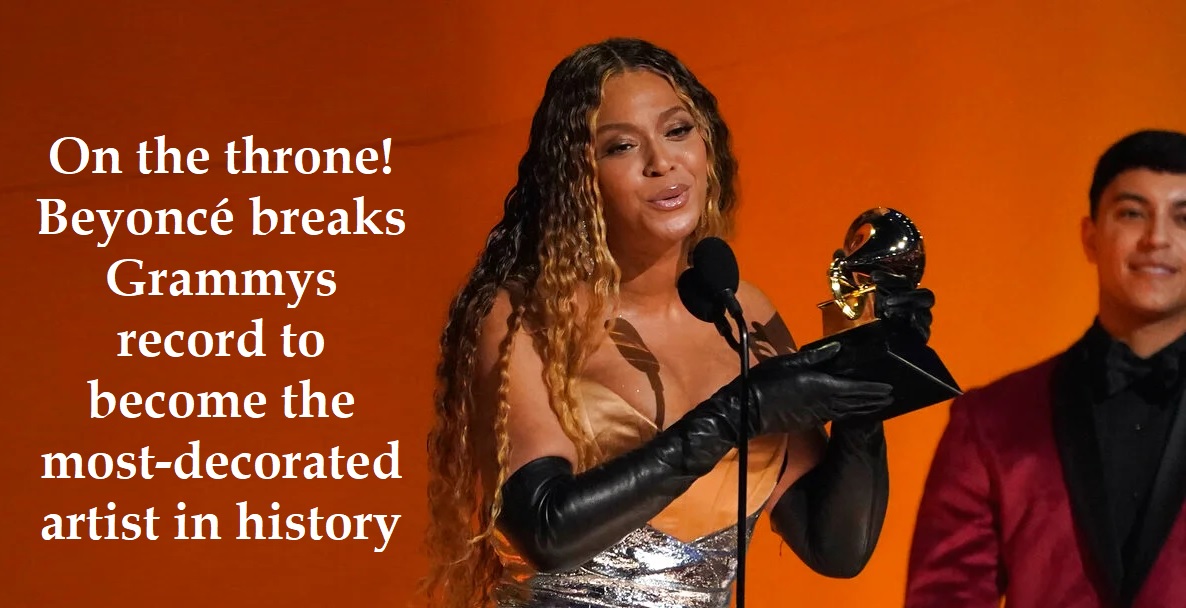 Los Angeles: With her fourth win Sunday night, Beyoncé has become the most decorated artist in the Grammy show's history surpassing the 26-year-old record once held by the late Hungarian-British conductor Georg Solti.
'I'm trying not to be too emotional', the superstar said as her husband Jay-Z stood and applauded her. The singer thanked her late uncle, her parents, Jay-Z and her children for supporting her. 'I'm just trying to receive this night. I want to thank God for protecting me. Thank you, God'. Beyoncé has now collected 32 awards after she won for best R&B song for 'Cuff It', dance-electric music recording for 'Break My Soul', traditional R&B performance for 'Plastic Off the Sofa' and dance-electric album for 'Renaissance', which is also nominated for album of the year.
Lizzo won record of the year for 'About Damn Time', delivering a rousing speech that brought many in the audience, including Beyoncé, Taylor Swift and Adele, to their feet. 'Me and Adele were having a good time, rooting for our friends. This is an amazing night. This is so unexpected', Lizzo said, dedicating her award to Prince. 'I wanted to make the world a better place, so I had to be that change to make the world a better place. Now, I look around and see these songs are about loving your body and feeling comfortable in your skin and feeling good'.
Jazz singer Samara Joy won best new artist, shrugging off challenges by such acts as Wet Led, Anitta and Maneskin. The New Yorker was virtually in tears when she collected the award and noted that her little brother was her date. 'I'm so, so grateful. Thank you'. She has released two albums as a lead artist and also won the Grammy for best jazz vocal album earlier in the night. Beyoncé missed being in the room when she tied Solti's record, which stood since 1997. Host Trevor Noah said she was on her way to the ceremony but blamed Los Angeles traffic for not being in person to accept it. The song was written by several writers including Beyonce, The-Dream, Nile Rodgers and Raphael Saadiq. Once Beyoncé — the night's leading nominee — finally arrived, Noah presented her with the best R&B song award at her table.
Veteran singer-songwriter Bonnie Raitt shrugged off big-name rivals like Adele, Taylor Swift and Beyoncé to win the song of the year award. 'I'm so surprised. I don't know what to say', a visibly stunned Raitt said, adding that the song 'Just Like That' explores organ donation. It capped a night when Raitt won two other Grammys, for best Americana performance and best American roots song. A who's who of hip-hop royalty took the stage for an epic, rousing 15 minute tribute to the genre's 50th anniversary.
The performance included Grandmaster Flash doing part of his seminal hit 'The Message', Run DMC, Chuck D and Flavor Flav along with Ice-T, Queen Latifah, Busta Rhymes and Nelly all taking the stage. It ended with everyone on the stage and LL Cool J shouting 'multi-generational! Fifty years!' The show marks a return to Los Angeles after the pandemic first delayed, then forced the Grammys to move to Las Vegas last year. Noah hosted the ceremony as well, which saw Jon Batiste take home album of the year.