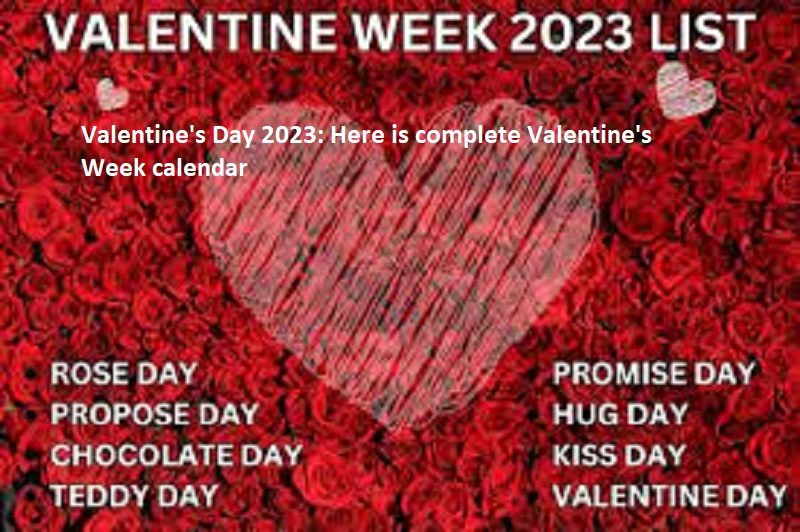 New Delhi: Every year we celebrate February 14 as  Valentine's Day or lovers day. Valentine's Day is named after Saint Valentine.  Saint Valentine was a Catholic clergyman who lived in Rome during the 3rd century BC. The day is followed by different names such as Saint Valentine's Day or Feast of Saint Valentine.
Lovers across the globe celebrate  the day with great enthusiasm. Not only Valentine's Day but the entire week is also meant to glorify the emotion of love. The days are Rose Day, Propose Day, Chocolate Day, Teddy Day, Promise Day, Hug Day, Kiss Day, and Valentine's Day.
Valentine's Week 2023: Complete List of Important Dates
Also Read: Women's Premier League 2023: Mumbai Indians announced its coaching staff 
February 7, 2023: Rose Day: Valentine's Week begins with Rose Day. The day  is a sign to ask your crush or significant other if they would like to be your Valentine.
February 8, 2023: Propose Day: This day is meant for you to propose to your loved one.
February 9, 2023: Chocolate Day: This day signifies the innocence of love that is shared by gifting chocolates.
February 10, 2023: Teddy Day: On this day, couples celebrate their love by gifting a teddy to each other.
February 11, 2023: Promise Day: Promise Day is celebrated to commemorate that promise of love.
February 12, 2023: Hug Day: On  this day people hug their loved ones  to make them feel special, safe, and calm.
February 13, 2023: Kiss Day: Kisses are intimate and one of the purest forms of love. On kiss day, couples kiss their partners to convey why their significant other is special to them.
February 14, 2023: Valentine's Day:  This is a day that symbolises love and romance.