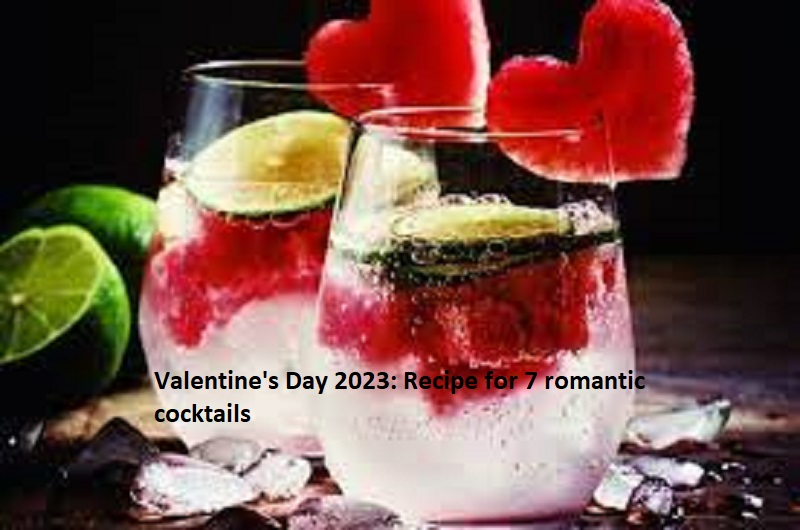 Lovers across the globe will celebrate Valentine's Day on February 14. Cooking a meal for your loved ones is the best demonstrate your love for them. Here are  recipes of some refreshing cocktails to celebrate the lover's day with your loved one.
Here are 7 romantic cocktail recipes to make Valentine's Day memorable:
1. Devil's Love Bite: This drink is a combination of white rum, lemon juice, sugar syrup and strawberries. To make Devil's Love Bite, blend fresh strawberries and then strain the juice. In a Boston shaker, mix the remaining ingredients. Rim the glass with salt before pouring the cocktail into it.
2. Made for Each Other: Layer a champagne glass with strawberry puree followed by crushed ice. Add vodka and top it off with lemonade. Garnish with a strawberry and fresh sprigs of basil. Click here for the full recipe for Made for Each Other
3. Goodnight Kiss: Add maraschino cherry brine, Italian red bitter, vodka and ice cubes in a mixing jar. After stirring for around 10 seconds, pour it into a coupe or martini glass. Pour the dalgona coffee mix on top of the drink and garnish with three coffee beans.
Also Read: Drinking this tea will reduce blood pressure 
4. Al Higo: Muddle fresh figs. If you do not have a muddler at home, you can use a wooden spoon. Pour citrus-infused vodka, elderflower syrup, cranberry Juice and ice cubes into a shaker. After shaking well, strain the mix and pour it into a highball glass. Top up with sparkling wine.
5. Rangeela: This drink is a concoction of rum, mango, grenadine, and sugar with a tang of lime. You also need to add Blue Curacao on top. While making this drink, pay attention to the order in which the ingredients have to be added.
6. Desi Masala Cocktail : Slit a green chilli and add it to a salt-rimmed glass. Pour a white rum of your choice, and then add salt and red chilli flakes. Finally, top up with some guava juice.
7. Purple Rain G & T: Put blue pea-infused gin, elderflower and lime juice top-up with tonic water into a shaker. Mix it well and pour it into a sheer goblet glass. Garnish it with edible flowers and a slice of orange to make it look stunning.