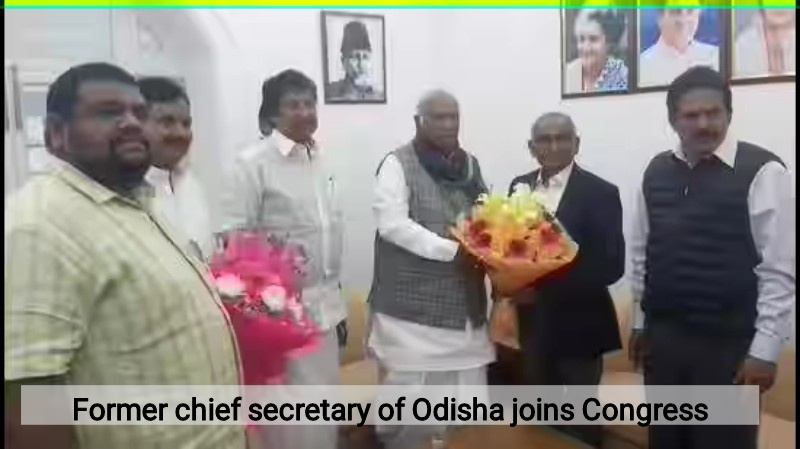 Bijay Patnaik, a former chief secretary of Odisha who worked closely with chief minister Naveen Patnaik from 2004 to 2013, joined the Congress on Friday in New Delhi, claiming that the state was plagued by poor governance, corruption, and violence.
In the presence of party president Mallikarjun Kharge and Odisha in-charge A Chellakumar, the former bureaucrat joined the Congress and claimed that the recent Bharat Jodo Yatra had served as inspiration.
'The administration has failed to reach out to the common people, who are unable to decide who to approach as nobody knows from who to seek help, be it MLAs or ministers. This needs to change and I will certainly work in this regard. There is a need to repose faith in democracy again in Odisha,' according to Patnaik, a former member of the Indian Administrative Service (IAS).
The former bureaucrat, who was once seen as close to Naveen Patnaik, was demoted after V K Pandian, the CM's private secretary, joined the CMO in 2011. He was chosen to serve on the Odisha Staff Selection Committee and later the Odisha Human Rights Commission after he retired. Later, he became the project leader for Vedanta University and remained there through 2017.
He claimed that up until he entered government, he had no political leanings.
'When I started my service, it was the Congress that was in power. But the recent Bharat Jodo Yatra has inspired a lot of people including me. Today, I have joined the Congress and thank Rahul Gandhi and others who encouraged me to join politics. I will continue to work ahead in politics with whatever experience I have acquired in my service career of over 40 years,' he said.
'We will certainly work to create a vibrant Congress in Odisha. At present, people do not know who to approach to get their grievances redressed. We want to ensure that faith is restored in democracy,' said Patnaik.