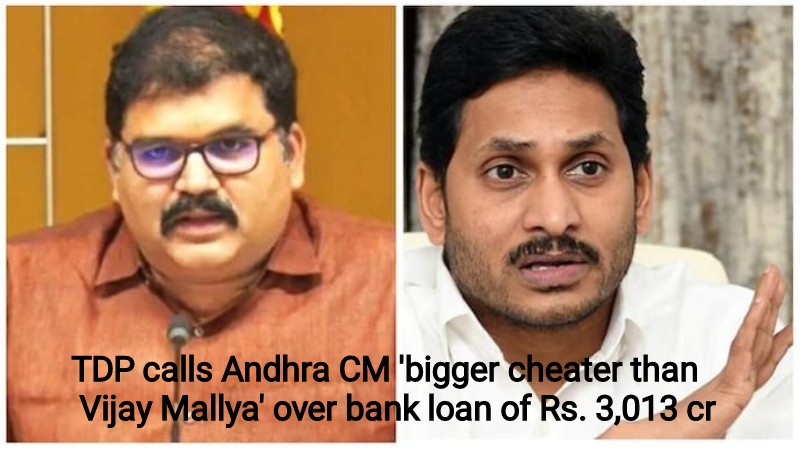 Telugu Desam Party national spokesperson Kommareddy Pattabhiram claimed that Andhra Pradesh Chief Minister YS Jagan Mohan Reddy was a more egregious bank thief than Vijay Mallya and Nirav Modi. After announcing Vizag as the state's executive capital, Pattabhiram claimed the CM shocked the populace by launching a loan campaign in the name of Amaravathi.
'In December 2019 itself, Jagan made a statement on the floor of the Assembly that the capital is going to be shifted to Visakhapatnam from Amaravathi. Henceforth, Vizag will be the executive capital of the State. But, in the name of Amaravathi, he raised loans from the banks and this amounts to nothing but cheating the banks,' said Kommareddy Pattabhiram.
Through the Capital Region Development Authority, CM Jagan Mohan Reddy has obtained loans totaling Rs 3,013 crore from various banks in the name of Amaravathi (CRDA).
Further, Kommareddy Pattabhiram stated that page 50 of the Comptroller and Auditor General (CAG) report for the fiscal year 2019–20 contains all the information regarding how CM Jagan Mohan Reddy obtained loans from the banks in the name of Amaravathi.
'Since the interest on these loans has not been paid, the bank officials went to the CRDA office and questioned the officials there. During former CM Chandrababu Naidu's regime, the CRISIL gave A+ rating to the CRDA, but after Jagan Mohan Reddy became the chief minister the rating of the CRDA came down to A-,' claimed Kommareddy Pattabhiram.
According to Pattabhiram, even the interest on the loans could be paid without a minimum balance in the CRDA bank accounts. Because of this, CRISIL gave the organisation a '-A' rating.
'During Chandrababu Naidu's regime, there wasn't a single instance where the banks demanded or questioned the government officials to repay the loan amount or even the interest,' said Pattabhiram.
He later concluded by saying, 'Raising loans in the name of Amaravathi shocked the people of Andhra Pradesh, as Jagan Mohan Reddy claimed Vizag to be the executive capital until yesterday. It is truly shameful that the CRDA officials, including its commissioner, were unable to face bankers when they visited the office for loan recovery.'