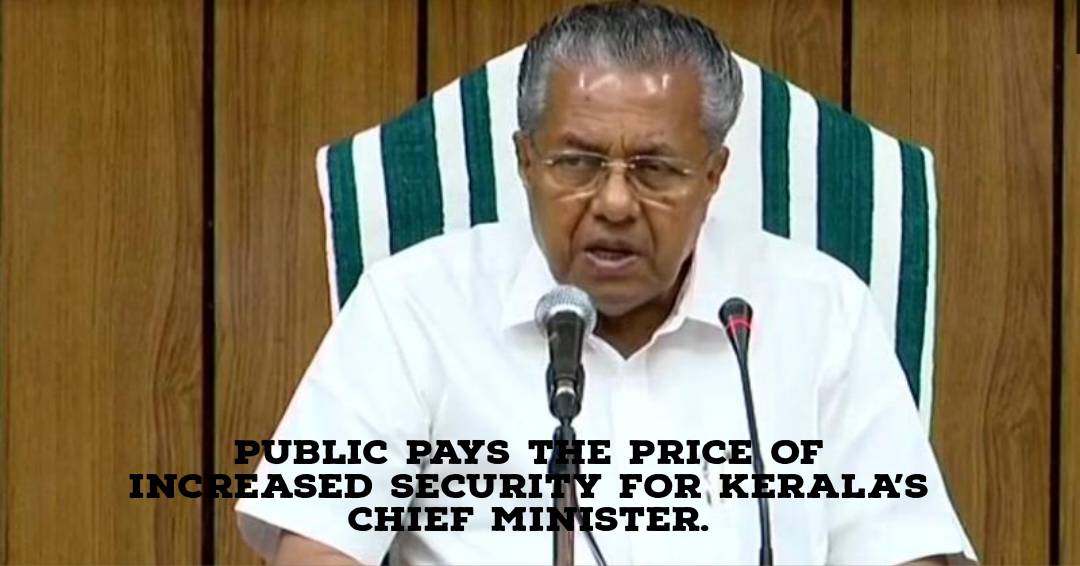 The increased protection being provided to Chief Minister Pinarayi Vijayan in response to recent protests, including the waving of black flags by the Opposition parties, is being borne mostly by the people of Kerala.
In other circumstances, it amounts to a breach of fundamental human rights, like when police recently took a man into preventative custody and denied him access to a vehicle so he could take his mother for a cancer checkup.
No authorization to buy medication! (Ernakulam, Mattoor)
S. Sarath, a native of Kottayam, was allegedly intimidated by police on Monday as he was out shopping for baby supplies in Mattoor, close to Kalady.
He was told not to park his car on the section that had been closed off so the chief minister's convoy could pass by by a police officer. However, when the proprietor of the medical store questioned this, the police threatened to close down his business.
According to Sarath, he has complained to the chief minister and higher-ranking police officers. He had just dropped his wife off at the airport and was heading home with his infant when the incident occurred. The child had a high fever, so he stopped by the Mattoor pharmacy.
M. C. Mathai, the store's owner, claims that a sub-inspector arrived quickly and gave the order to transfer the car from that location. 'Then, after leaving his automobile in a different location, the man returned to the store with the infant. But when they were leaving, the SI walked right in' Mathai stated.
The SI responded, 'Don't try to show off,' when questioned if the officer could not tell that the infant was feverish. The store owner who complained received a threat that his business would be closed. But the shopkeeper dared the cop to do it.
Police had already instructed the Youth Congress to cancel a meeting that was scheduled to take place in a Perumbavoor hall since the CM's convoy was supposed to be nearby.
Schoolchildren stuck midway (Mannuthy, Thrissur)
Travel restrictions were in place around 'Ramanilayam' in Thrissur, where the chief minister spent the night after arriving yesterday to open the gathering of milk farmers. On Tuesday morning, however, the restrictions made it impossible for students to get to school on time. The milk farmers also organised a procession, further escalating the commotion.
Cancer patient stranded (Mudappallur, Palakkad)
Before the chief minister arrived in Palakkad, 22 leaders of the Youth Congress were detained in preventive arrest. One individual was detained by the police in Mudappallur as he prepared to transport his cancer-stricken mother to a Kochi hospital for treatment. Despite numerous requests, the police did not give in.