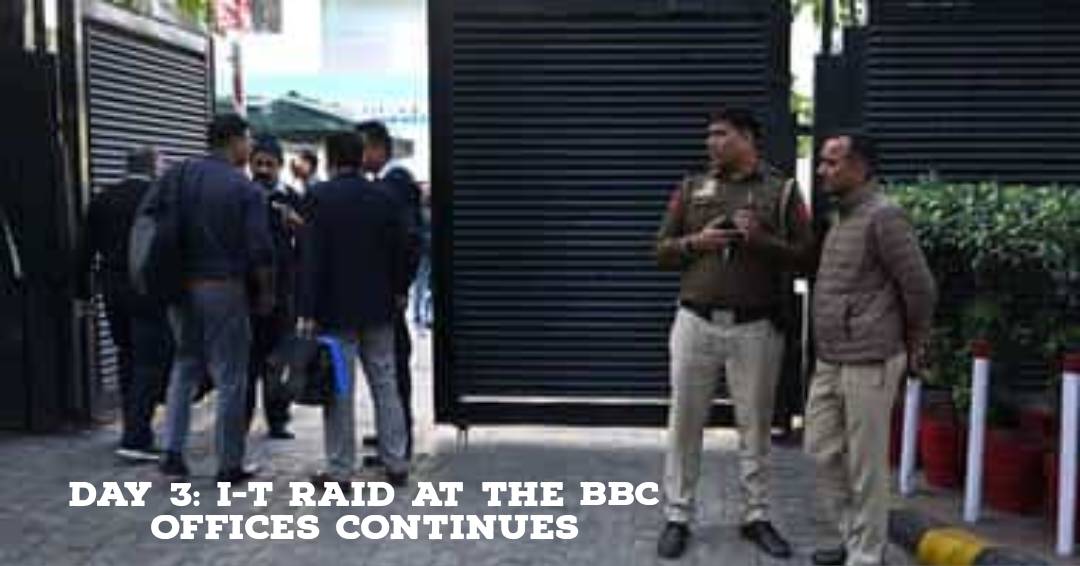 For the third day in a row, the Income Tax department's 'survey' of the BBC India went on Thursday. Officials made copies of the news organization's electronic and paper records and collected financial information from a small number of staff members.
The sources says, the 'survey' which started at the British Broadcasting Corporation (BBC) offices in Delhi and Mumbai at 11:30 am on Tuesday, has lasted more than 45 hours.
They informed PTI that the survey was ongoing.
The drill was expected to last for a little longer, according to authorities, who stated that the 'precise time frame to deem the operation closed relies solely on the teams on the ground.'
According to officials, the survey is being conducted to look at difficulties with foreign taxation and transfer pricing of BBC subsidiary companies.
The tax official informs that, the survey teams are copying data from electronic devices as part of their work of gathering evidence and are looking for answers on financial transactions, the corporate structure, and other details concerning the news firm.
The I-T department's action against the public broadcaster with its headquarters in London has been condemned by opposition parties as a 'political vengeance.'
The BBC was accused of 'venomous reporting' by the ruling BJP on Tuesday, and the opposition questioned the timing of the action, which came weeks after the broadcaster aired a two-part documentary on Prime Minister Narendra Modi and the 2002 Gujarat riots entitled 'India: The Modi Question.'
Although the Income Tax Agency has not released an official comment regarding the incident, the BBC has stated that it is working with law enforcement.
A BBC employee in Delhi claimed that the organisation was broadcasting news as usual.
Following the contentious documentary, a petition asking for a complete ban on the BBC in India was rejected by the Supreme Court last week. The court referred to the petition as 'entirely misconceived' and 'completely meritless.'
In April, the government's move to restrict access to the documentary on social media platforms will be the subject of additional petitions.
The government has issued orders to remove numerous YouTube videos and Twitter posts that contained links to the documentary on January 21.