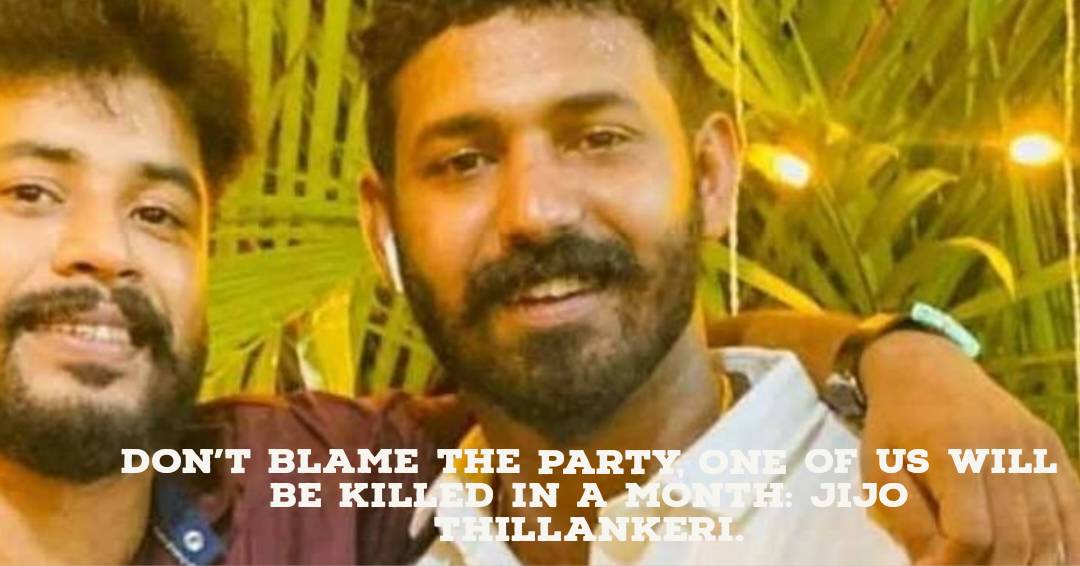 Jijo Thillankeri, a CPM activist who recently made an astonishing revelation about the murder of Shuhaib, the leader of the Youth Congress, has predicted that one of them will be killed within a month and that the 'party' won't be held accountable.
Akash Thillankeri, who is accused of murdering Shuhaib on February 12 in Kannur, is close friends with Jijo.
Jijo Thillenkeri wrote, 'the political opponents, especially RSS, are undoubtedly attempting to enjoy the benefits.'
'Please ask the media to avoid focusing on the celebration that our murder has stained. Do not even even suspect the party when you see our dead bodies' He composed.
With a few contentious Facebook posts recently, two CPM apparatchiks from Thillankeri stoked the controversy around Shuhaib's political murder.
Jijo said, '..when you want to kill, should you kiss instead,' under a post denouncing the murder of Shuhaib. Meanwhile, Akash asserted that the hit on Shuhaib was ordered by the 'Edayannur' party leaders.
There were many supporters of the Thillankeri duo's remarks, but they put CPM in a vulnerable position. The state's top officials have not criticised the pair for their statements on social media.
But, it is known that the party has scheduled a meeting for Monday in Thillankeri, where P Jayarajan, a member of the state committee who is reputedly close to Akash and Jijo, is anticipated to participate.