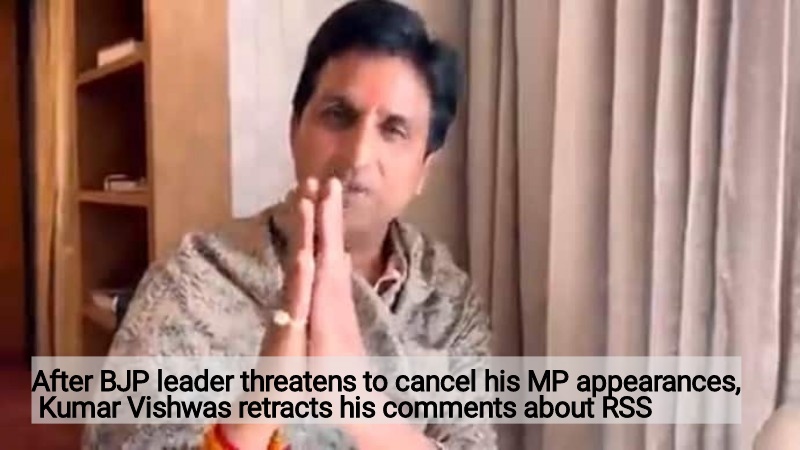 Famous poet Kumar Vishwas became embroiled in a debate after calling the Rashtriya Swayamsevak Sangh (RSS) 'illiterate' at an event in Ujjain, Madhya Pradesh. Later, Vishwas expressed regret for his comments.
This follows a threat by Sonu Gehlot, a leader in the Bharatiya Janata Party (BJP), to obstruct Kumar Vishwas' upcoming performances in the state. The posters advertising the show were also torn up by his supporters.
Sharing a story with his audiences, Vishwas revealed that, in contrast to communists, who were 'ill-informed,' he once called an RSS employee 'illiterate.'
'A boy who works with the RSS asked me how the budget would be. I said, you have voted the government for Ram Rajya (Lord Ram Rule), so the budget would also be alike,' claimed Kumar Vishwas.
'There was no Budget in Ram Rajya, said the boy, to which I said this was your problem. While you are illiterate, communists are ill-informed.'
BJP leader Lokendra Parashar responded to Kumar Vishwas' remark on Twitter, 'You (Kumar Vishwas) have got indigestion of the intellect. This arrogance will lead to your downfall. Insulting someone is the easiest thing.'
However, Kumar Vishwas later apologised and released a clip, claiming that his words had been misinterpreted.
As part of the Vikramotsav programme, Ram Katha is being presented in Ujjain from February 21 to 23. Kumar Vishwas is narrating Ram Katha (story).