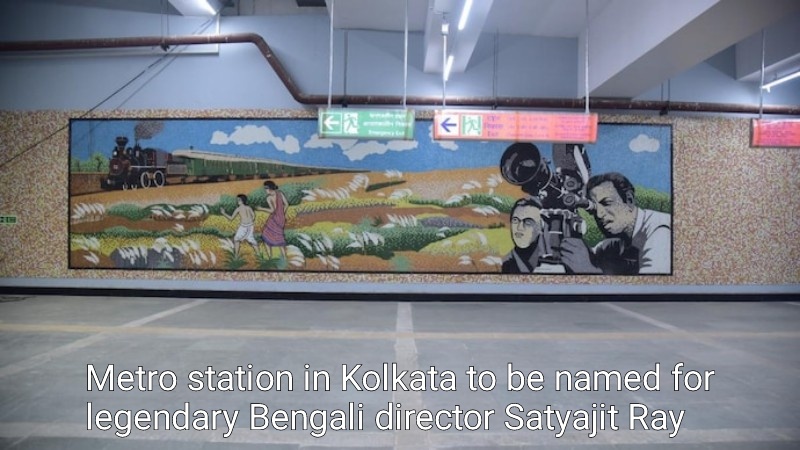 By renaming the city's Orange Line metro station Satyajit Ray, the Kolkata Metro will honour the Oscar-winning Bengali master filmmaker. Within a few days, the Kolkata Satyajit Ray Metro Station will begin conducting commercial operations over the Eastern Metropolitan Bypass.
The metro's Orange Line in Kolkata will soon be officially opened. The metro station in Kolkata's Hiland Park area is a tribute to the great Indian film maestro Satyajit Ray, both in terms of its name and decoration.
The station was not only named after Satyajit Ray, but it was also decorated with various works of art and graffiti about Satyajit Ray. According to reports, the station is one of the well-known stations along this 5.4-kilometer stretch between the Kavi Subhash (New Garia) and Hemanta Mukhopadhyay stations (Ruby More).
Located a stone's throw away from this station is the Satyajit Ray-named film school. After arriving at this metro station, students, professors, and movie enthusiasts from India and abroad will find it simple to get to the Satyajit Ray Film and Television Institute (SRFTI) of Kolkata.
Some of the key areas of Kolkata, including Survey Park, Santoshpur, Pancha Sayar, Bagha Jatin, and Jadavpur, will be accessible from this station. This station is also very close to Eastern Railway's Bagha Jatin railway station.
Due to the presence of some renowned private hospitals in the surrounding areas, the Satyajit Ray Metro Station will also satisfy a long-standing need among patients and family members.