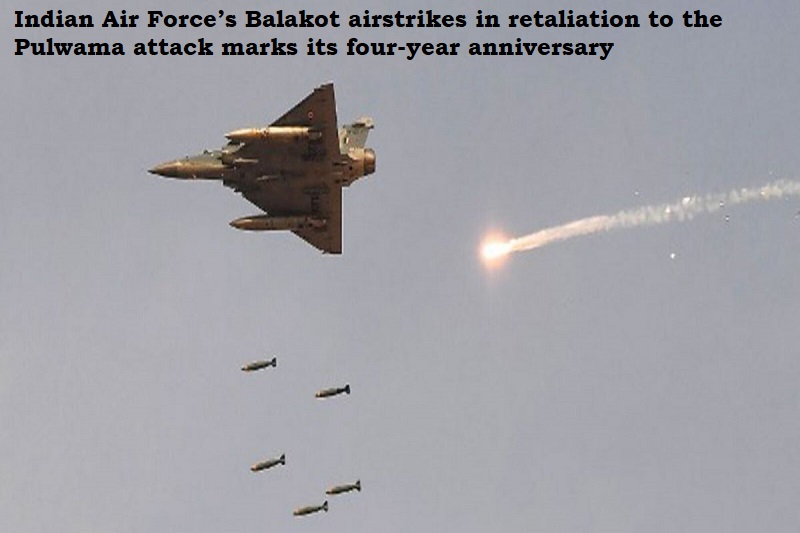 On February 26, 2019, the Indian Air Force carried out airstrikes in Balakot as retribution for the incident in Pulwama. The Air Force's effective airstrikes under the codename 'Operation Bandar' have been commemorated today for four years.
Twelve days after a suicide bomber struck a convoy of cars transporting CRPF troops in the Pulwama area of Jammu & Kashmir, India launched these airstrikes in the early hours of February 26, 2019. This was the first time an Indian aircraft has conducted such an airstrike over the border since the Indo-Pak War of 1971.
40 members of the Central Reserve Police Force (CRPF) were killed on February 14 in Pulwama during an attack planned by Jaish-e-Mohammed (JeM). In retaliation, Indian Air Force destroyed the biggest terror training camp of JeM at Balakot. An entire fleet of IAF Mirage 2000 fighter jets crossed the India-Pakistan border for the retaliatory strike.
The entire operation of launching the airstrikes and coming back to Indian soil safely was codenamed 'Operation Bandar' (monkey). The name was given to maintain secrecy and ensure that the plans of the airstrikes don't leak out.
Though there is no specific reason behind the name, many sources said that monkeys have always held a special place in India's war culture.