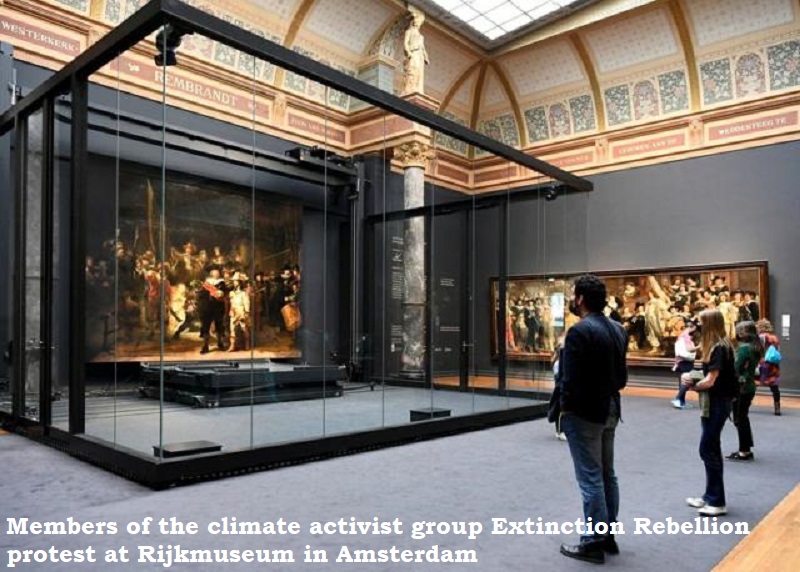 Extinction Rebellion activists from the Netherlands demonstrated close to Rembrandt's well-known work The Night Watch at the Rijkmuseum in Amsterdam. The demonstrators brought up climate change and emphasised their discontent with the museum's affiliation with KLM and ING.
Ten demonstrators held replicas of the well-known paintings, two of whom were protesting. The group's catchphrase, 'There is no art on a flooded planet,' was referenced by showing watchmen from the original piece immersed in water in the reproduction.
"The science is clear, we can no longer escape it: the earth is warming up, the sea level is rising and the weather is becoming more and more extreme. It is obvious that this is due to the fossil industry, an industry that the Rijksmuseum is still sponsoring", 19-year-old protester Yara said,
The protesters were between 15 and 22 years of age. Climate slogans were written on their t-shirts. Parents and grandparents of some of the protesters stood nearby in support.
A spokesperson for Rijksmuseum told Dutch press agency ANP that the protest didn't cause any damage to The Night Watch and that the protesters were escorted outside without trouble.
Rijksmuseum did not immediately respond to requests for comment.