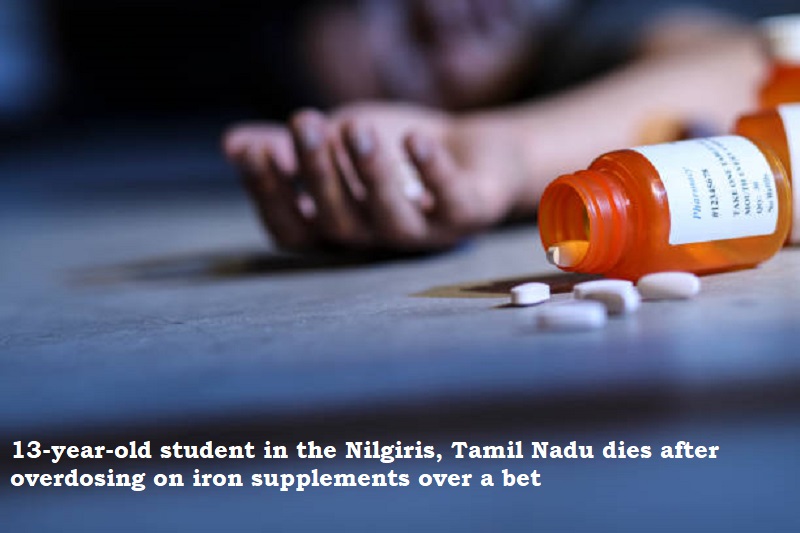 A 13-year-old kid at the Urdu Middle School of the Udhagamandalam Municipality in the Nilgiris passed away on March 9 after allegedly ingesting too much iron and folic acid pills on a bet.
The student, Jaiba Fathima, had 45 supplements before going into liver failure, according to The New Indian Express. As part of a friendly wager, four schoolmates, including Fathima, allegedly took the pills on Monday. The Times of India said that Fathima consumed the most supplements.
The National Health Mission's Weekly Iron and Folic Acid Supplementation (WIFS) programme was meant to include a bag of supplements, which Fathima and five other pupils reportedly found when they went to their headmaster's office.
According to the district education officer, the students competed to see who could take more supplements.
According to reports, Fathima consumed roughly 45 pills, while the three other girls and two boys who were with her consumed at least 10 pills each.
Some of the students felt dizzy and were taken to the Udhagamandalam Government Hospital before being sent to the Coimbatore Medical College Hospital (CMCH).
According to CMCH administration, Fathima was sent to Stanley Medical College in Chennai after it was determined that she had sustained serious liver damage and required a liver transplant right away.
She was transported to the Government Mohan Kumaramangalam Medical College in Salem, but her health deteriorated there and she was pronounced dead.