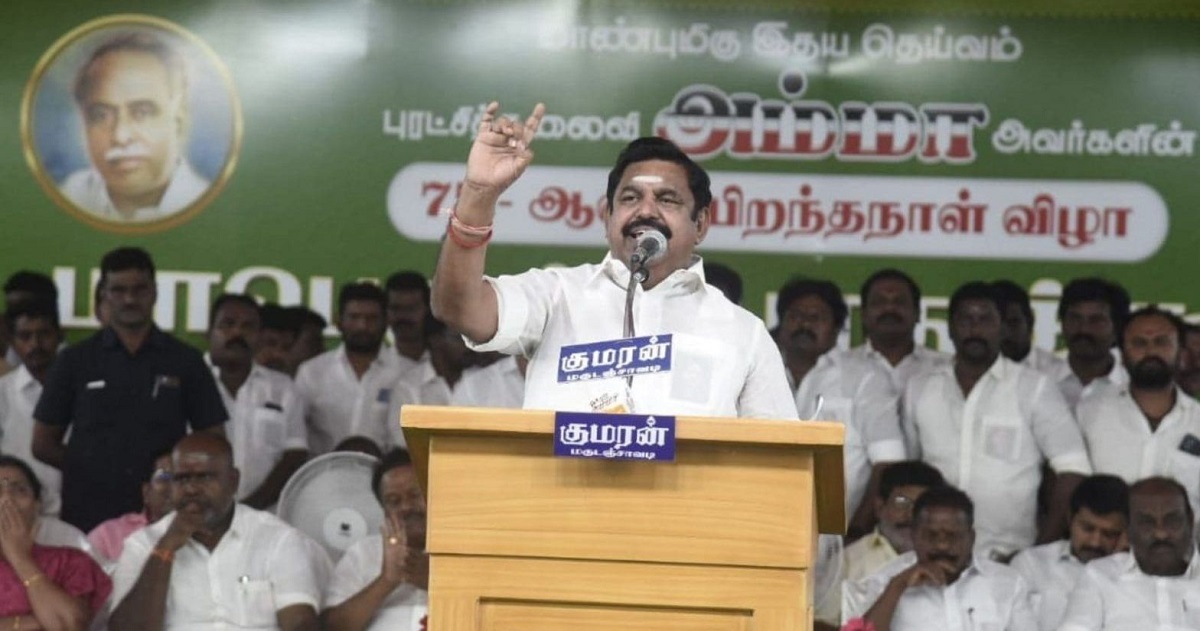 Sivaganga: AIADMK Interim General Secretary Edappadi Palaniswami on Saturday took a jibe at Tamil Nadu Chief Minister MK Stalin and said that the DMK's plans to destroy AIADMK leader O Panneerselvam's faction would yield no results.
AIADMK Interim General Secretary Palaniswami participated in Former Chief Minister Jayalalithaa's 75th birthday public meeting in Tamil Nadu's Sivaganga, and said, 'If Stalin plans to do something with the AIADMK B-team, O Panneerselvam's faction, I warn that DMK will be in a state of non-existence in the future'. Addressing a public meeting, Palaniswami said, 'Stalin refused to give permission for former Chief Minister Jayalalithaa's birthday public meeting in Sivaganga today. When I was the chief minister, anyone who asked for permission to hold a protest or public meeting was given permission democratically'.
Talking about Jayalalithaa's contribution to the State, he said, 'Former Chief Minister Jayalalithaa gave excellent governance to Tamil Nadu for 15 years. People got all kinds of benefits during the AIADMK rule. 'But today in DMK rule 'Commission Correction Collection' is taking place every day. Crime like murder, robbery, and sexual assault are taking place in Tamil Nadu every day. An incompetent Chief Minister and Puppet Chief Minister is ruling Tamil Nadu', he added. Further talking about the DMK's rule in the State, Palaniswami said, 'DMK is the party that has earned the biggest public hostility within 22 months of coming to power. No other party in India has earned such animosity from the people'.
Attacking Udayanidhi Stalin's movie company, he said, 'Films made in the cinema industry can only be sold to Udayanidhi Stalin's company, Red Giant Movies. Around 150 films in the cinema industry have been paralyzed by Udayanidhi Stalin. They also earned in the field of politics and cinema'. Further talking about the Karunanidhi Pen Statue, he said, 'We're not saying don't put up the Karunanidhi Memorial Pen Statue. Why put up a pen idol at a cost of 81 crore rupees? A Pen Statue of this can be placed in the Karunanidhi Memorial Hall at a cost of Rs.2 crore. Give the rest of the money to poor students'.