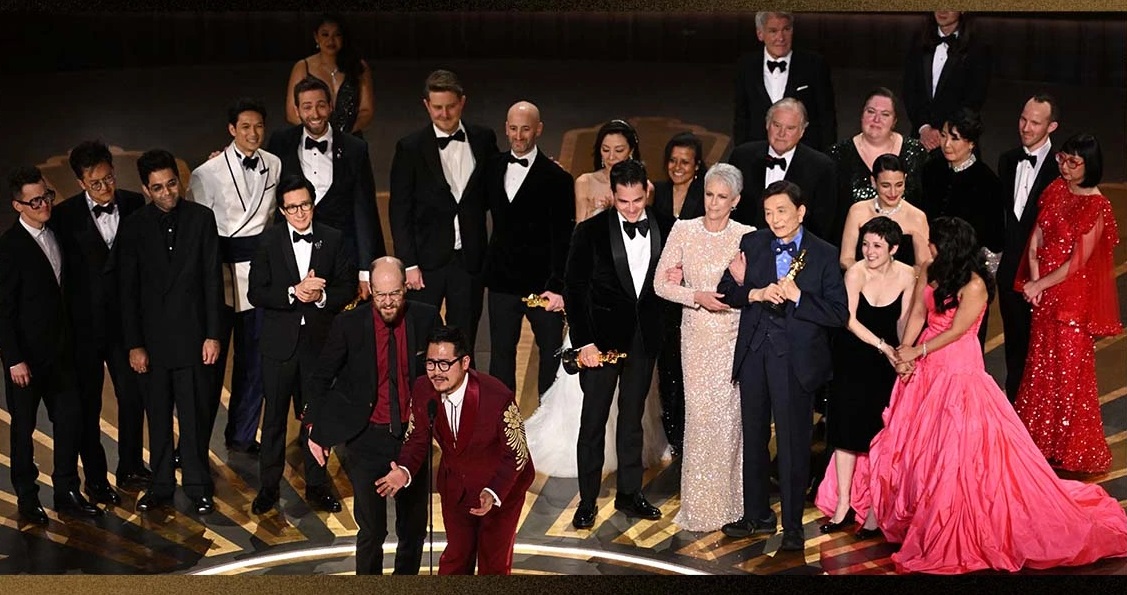 Los Angeles: 'Everything, Everywhere, All at Once' won 'Best Picture' at the 95th Academy Awards, capping off an incredible awards season with the film industry's highest honour. The film took home a total of 7 Oscar Awards in various categories. The film won 'Best Picture,' 'Best Actress,' 'Best Supporting Actor,' 'Best Supporting Actress' and 'Best Director' 'Original Screenplay' and 'Editing'.
Michelle Yeoh of 'Everything, Everywhere, All at Once' became the first Asian to win an Oscar in the 'Best Actress' category. The award followed a long career in martial arts and action films such as 'Crouching Tiger, Hidden Dragon' and 'Yes, Madam'. 'For all the little boys and girls who look like me watching tonight, this is a beacon of hope and possibilities', Yeoh said from the stage, as per Variety.
Everything, Everywhere, All at Once's Ke Huy Quan won best supporting actor for his portrayal of Yeoh's frazzled husband. Quan, a former child star who appeared in 'Indiana Jones and the Temple of Doom' and 'The Goonies', had given up acting in recent years after becoming dissatisfied with his lack of opportunities. He fought back the tears as he accepted his award and shared his personal story'. My journey started on a boat', he said. 'I spent a year in a refugee camp and somehow I ended up here on Hollywood's biggest stage. They say stories like this only happen in the movies. I cannot believe it's happening to me. This is the American dream'. 'Dreams are something that you have to believe in', he added. 'I almost gave up on mine. To all of you out there, please keep your dreams alive'.
American actress Jamie Lee Curtis won the Oscar for Best Supporting Actress. She won the honour for her role in 'Everything Everywhere All at Once'. Jamie was nominated against Stephanie Hsu from Everything Everywhere All at Once, Hong Chau from The Whale, Angela Bassett from Black Panther: Wakanda Forever, and Kerry Condon from The Banshees of Inisherin. She dedicated the win 'to all of the people who have supported the genre movies that I've made for all these years'. The zany sci-fi adventure, directed by Daniel Kwan and Daniel Scheinert, centres on Yeoh's Evelyn Wang, a middle-aged laundromat owner who discovers she must connect with versions of herself from parallel universes to prevent cataclysmic destruction while being audited by the IRS.