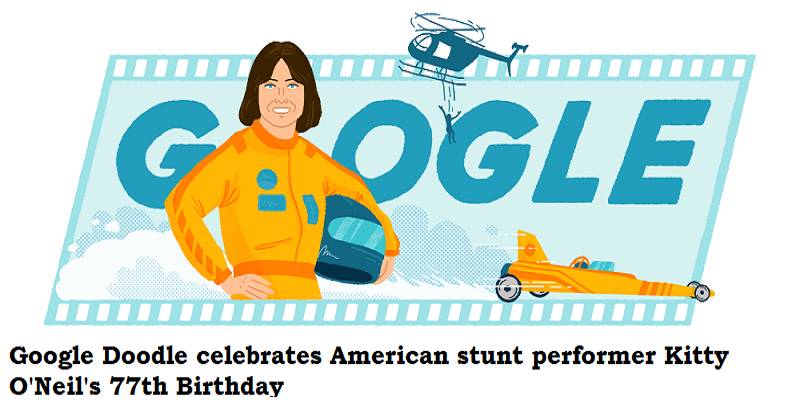 The Google Doodle today is celebrating the 77th birth anniversary of Kitty O'Neil, who was an American stunt performer, daredevil, and a rocket-powered vehicle driver. She was also deaf since childhood. Born in Corpus Christi, Texas in 1946 to a Cherokee Native American mother and Irish father, O'Neil contracted multiple diseases at a young age, which left her deaf. Throughout her life, she adapted various communication modes for different audiences, eventually preferring speaking and lip-reading. She never let her deafness be a hindrance and even considered it as an asset.
O'Neil was interested in high-speed sports such as water skiing and motorcycle racing. She also performed dangerous acts such as falling from great heights while set on fire and jumping from helicopters. She became the first woman to join Stunts Unlimited, an organization for Hollywood's top stunt performers. In 1976, O'Neil set the women's land-speed record by driving a rocket-powered car called the Motivator at 512.76 miles per hour, earning her the title of "the fastest woman alive."
Despite breaking the women's record, O'Neil was not given the opportunity to break the overall record as her sponsors did not allow her to, fearing it would threaten the status quo. Legal action to fight this failed. Nevertheless, O'Neil continued to break records piloting jet-powered boats and rocket dragsters.
A biopic called Silent Victory: The Kitty O'Neil Story was released in 1979 and covers her Alvord Desert feat. The Google Doodle celebrates the life and legacy of this legendary figure, who remains an inspiration for us all.