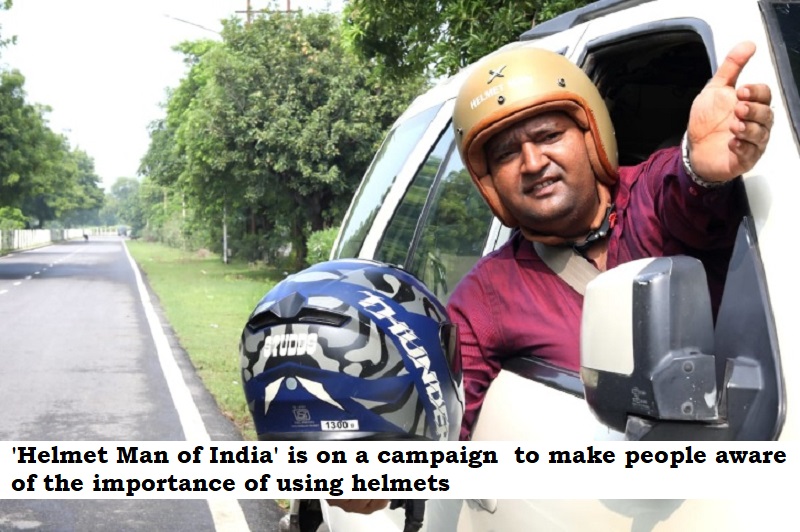 Raghavendra Kumar, popularly known as the 'Helmet Man' of India, is a road safety crusader who is on a mission to make the country's roads safer. He distributes helmets for free to anyone who needs one.
Kumar started his mission in 2015 after witnessing the high number of road accidents in his hometown of Hyderabad. He realized that many of these accidents could have been prevented if people were wearing helmets.
Kumar began by using his own money to buy helmets and distribute them to people on the streets. Over time, he was able to gain support from others, and his efforts grew into a full-fledged organization called 'Helmet For Life.'
Helmet For Life now has volunteers across India who distribute helmets in their communities. They also conduct awareness campaigns on the importance of wearing helmets and road safety.
Kumar's efforts have been recognized by the Indian government, and he has received several awards for his work. He was also invited to participate in the 2019 Republic Day parade in New Delhi, where he rode a motorcycle while wearing a helmet.
India has one of the highest rates of road accidents in the world, with more than 150,000 people dying on the country's roads each year. The lack of proper safety measures, such as helmets, is a major contributor to these accidents.
Kumar's work is helping to address this issue by providing helmets to those who cannot afford them and spreading awareness about the importance of road safety. His efforts are a reminder that even small actions can make a big difference in creating a safer world.