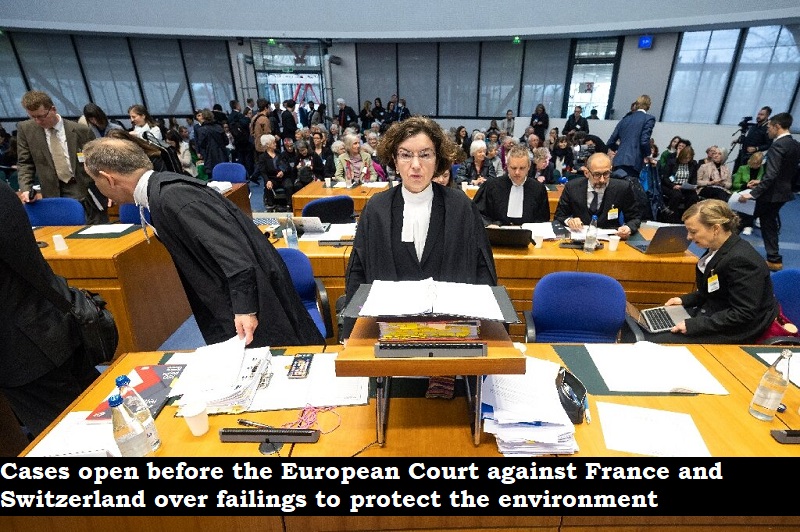 On Wednesday, the European Court of Human Rights began hearing cases against France and Switzerland for their alleged inaction in protecting the environment, marking the first time governments have been brought to the court for climate change inaction.
The case against Switzerland was brought by an association of elderly people, who call themselves the 'Club of Climate Seniors,' concerned about the effects of global warming on their living conditions and health. They accuse Swiss authorities of various climate change failings, which they say amount to a violation of the government's obligation to protect life and citizens' homes and families.
The average age of the Swiss club is 73, and around 50 of its 2,000 members were expected to be present at the hearing.
Meanwhile, the case against France was brought by Damien Careme, a former mayor of Grande-Synthe, a suburb of Dunkirk in northern France, who argues that the central government failed to meet its obligation to protect life by taking insufficient steps to prevent climate change. When he was mayor, Careme brought his case to the French judiciary on behalf of his town but also on his own behalf, saying climate change was raising the risk of his home being flooded.
France's highest administrative court ruled in favor of the town against the central government in 2021 but threw out Careme's individual case, which he then took to the ECHR.
Corinne Lepage, a former French ecology minister and one of Careme's lawyers, said, 'If the European court recognizes that climate failings violate the rights of individuals to life and a normal family life, then that becomes precedent in all of the council's member states and potentially in the whole world.'
The European Court of Human Rights, whose members are the 46 states belonging to the Council of Europe, acknowledged in a statement ahead of the hearings that the European Convention on Human Rights does not actually include a right to a healthy environment. However, its decision to take the cases was based on the fact that the exercise of the convention's existing rights could be undermined by harm to the environment or exposure to environmental risks.
A third pending case, without a date for a hearing so far, was brought by young Portuguese applicants claiming that climate inaction by dozens of states had contributed to heatwaves in Portugal that affected their rights. Although the cases are the first of their kind for the ECHR, governments have been taken to court in their national jurisdictions in the past.
In 2019, the Dutch Supreme Court ordered the government to cut greenhouse gas emissions following a complaint by an environmental organization. Two years later, a court in Paris found the French government guilty of climate inaction and ordered it to pay for resulting damages after four NGOs filed a case. However, Wednesday's hearings are only the start of proceedings that are likely to take several months before the court hands down its verdicts.