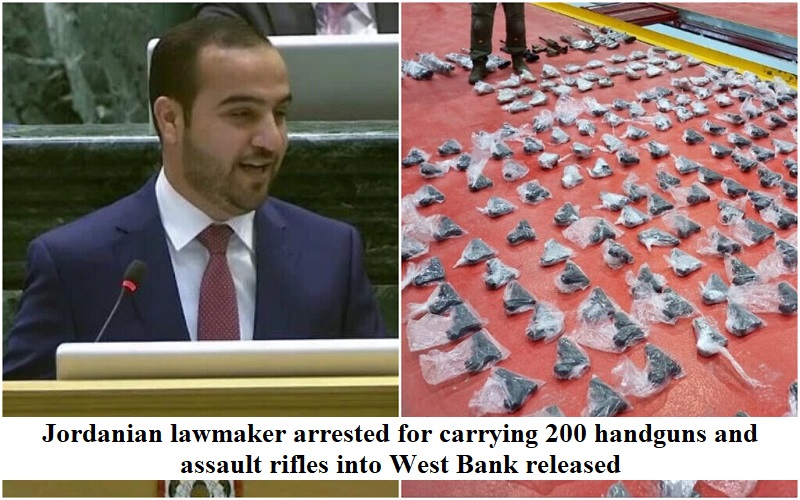 Jordanian lawmaker Imad Al-Adwan, who was arrested last month for carrying 200 handguns and assault rifles into the West Bank, has been released and is set to face charges in Jordan. The Shin Bet security agency handed him over to Jordanian authorities for "further investigation and prosecution," according to The Times of Israel newspaper.
After an emergency meeting, the Parliament voted to strip Imad of his immunity as a legislator, paving the way for his trial in Jordan. Reports suggest that he will be questioned ahead of being tried at the military State Security Court.
Imad was caught on April 22 at the Allenby crossing with 194 handguns, 12 assault rifles, and gold bars as he was heading into the West Bank by car. The Shin Bet said that the lawmaker had been smuggling various types of contraband, including birds, electronic cigarettes, and gold, since February 2022, and had reportedly done this 12 times.
The investigation found that he had been using his diplomatic passport to carry out the smuggling and was receiving "large sums of money." Jordanian authorities detained a number of suspects who were involved in the smuggling.
While Jordan and Israel don't have an extradition agreement, they signed a peace treaty in 1994 that facilitates strong security ties. In an interview with the Ynet news outlet last month, Israel Foreign Minister Eli Cohen attempted to delink the smuggling attempt to Jordan's ruling establishment, stating that he did not believe the episode was connected to Jordan in general, but to an irresponsible criminal act.
The smuggling incident occurred amid elevated tensions between Amman and Jerusalem, particularly over the Temple Mount, and follows a recent spike in violence and terror attacks in the West Bank, which Israeli authorities believe is aided by a flood of illegal weapons, including many guns smuggled from Jordan.