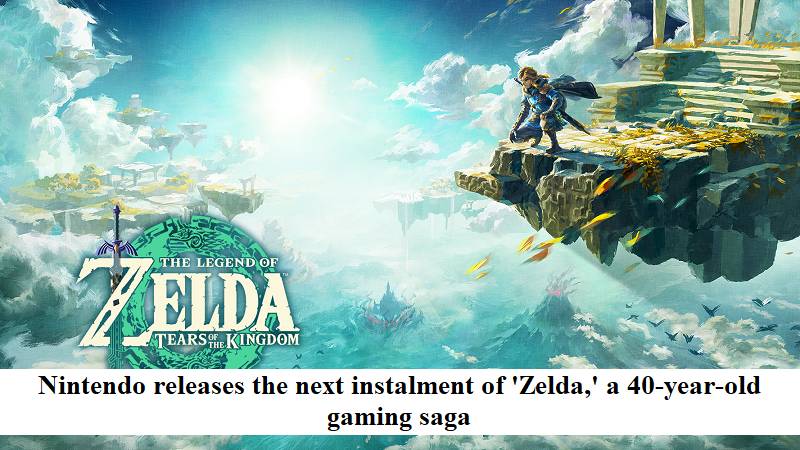 Nintendo has released the latest instalment of the popular gaming saga, "Zelda", after a six-year wait. Since the first edition of the game was released in 1986, it has sold 125 million copies worldwide. "Zelda" is renowned for its open-world gameplay, which allows players to freely roam virtual landscapes, and has influenced games such as "Grand Theft Auto" and "Skyrim".
However, the main challenge for Nintendo will be to boost earnings and extend the lifespan of its Switch console, which has been on the shelves for seven years.
Fans across the world eagerly awaited the release of "Tears of the Kingdom", with some queuing up outside shops to be the first to purchase the game. The franchise's launch in the 1980s was a gamble for Nintendo, which was then best known for "Donkey Kong" and "Super Mario Bros." The first "Zelda" game was unique for its time, as it was a pioneer of what open-world games would become.
It plunged players into an unknown universe without clear instructions and encouraged players to explore and take on challenges.
Despite the success of "Zelda" and Nintendo's other franchises, the company has forecast a 21% drop in net profit for the year. However, "Tears of the Kingdom" is expected to become the best-selling game in history and potentially bring in $1 billion in revenue.
The release of the latest "Zelda" game has been highly anticipated by fans, with "Breath of the Wild" setting a high bar for the open-world action-adventure genre.
In conclusion, the release of "Tears of the Kingdom" marks the end of a six-year wait for "Zelda" fans across the world. The franchise has had a significant impact on the gaming industry and has influenced many other games over the years. The latest release is expected to be a major contributor to Nintendo's sales this year and potentially become the best-selling game in history.