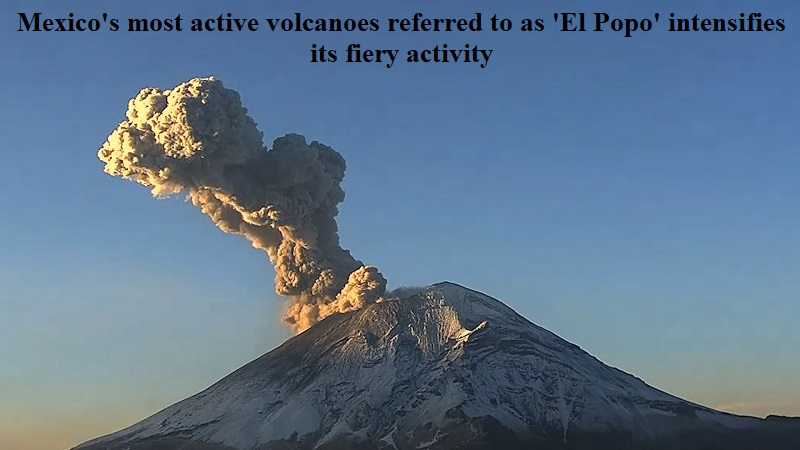 Mexico's highly active volcano, Popocatepetl, also known as "El Popo," has recently experienced an escalation in its fiery behavior. The volcano holds the distinction of being one of the most active in the country.
According to news agency Reuters, a timelapse video captured the eruption of ash and smoke from the volcano on Thursday (May 25).
As per the National Coordination of Civil Protection, the volcano continues to emit a continuous stream of water vapor and gas with minimal ash content, as confirmed on their Twitter account on Thursday.
In response to the volcanic ash, several towns closed schools earlier in the week, and the Benito Juarez International Airport in Mexico City had to suspend operations for over five hours on Saturday (May 20).
A low amplitude tremor was detected, and the smoke and ash reached a height of 400 to 600 meters in a south-southeast direction.
Reuters reported that residents of Santiago Xalitzintla and San Nicolas de los Ranchos, towns near the volcano covered in ash, remain vigilant about the volcanic activity.
Rene Lopez Xoletl, a resident of San Nicolas de los Ranchos, expressed concern, stating, "People are afraid of those situations (release of materials or eruptions), but first of all, as we have been told, we have to be calm and alert."
Popocatepetl, which means "Smoking Hill" in the native Aztec language Nahuatl, is closely monitored and ranks among the world's most observed volcanoes. It stands about 45 miles southeast of Mexico City and is surrounded by approximately nine million people (over 22 million if including the metropolitan region).
Juan Manuel Espíndola, a researcher at the Institute of Geophysics of the National Autonomous University of Mexico (UNAM), explained that the recent surge in activity is not significantly different from previous episodes since the volcano awakened from its decades-long dormancy in 1994.
Espíndola noted that similar events occurred in Popocatepetl during the late 1990s and early 2000s, but the current phase may potentially progress in a more hazardous direction.
Experts continually monitor the volcano's seismic activity, as well as the composition of the materials and gases it releases, in an attempt to anticipate a possible major eruption.
"Volcanoes exhibit somewhat unpredictable behavior," added Espindola.