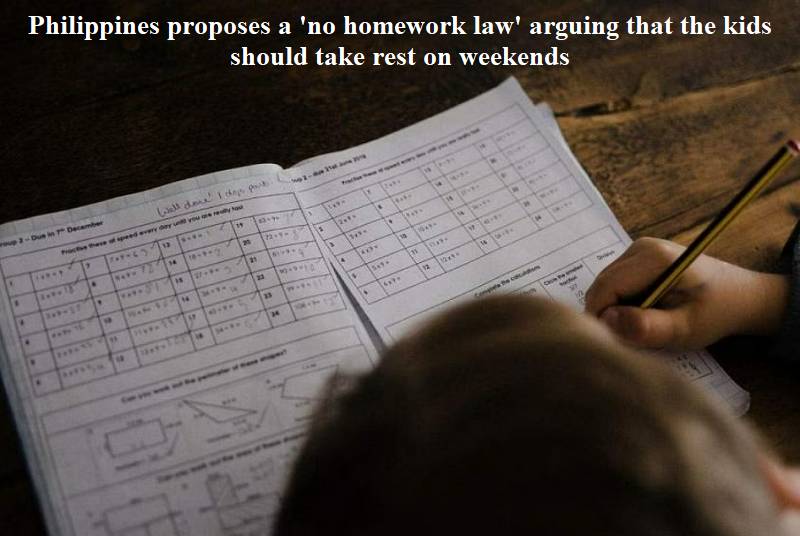 A proposal for a "no homework law" has been made by a politician in the Philippines, arguing that students should have rest and rejuvenation on weekends instead of doing homework, considering the long hours they already spend in school on weekdays. Sam Versoza, a member of the Philippine House of Representatives, introduced the proposal to ban teachers from assigning homework on weekends for elementary and high school students.
According to reports from The Star, in 2010, the Department of Education issued a memorandum circular advising teachers to assign reasonable homework only on weekdays for public elementary school students and explicitly stating that no homework should be given on weekends.
Versoza's bill aims to institutionalize this concept across all elementary and high schools in the country. Similar measures to implement a no-homework policy on weekends have been taken by lawmakers since the 17th Congress (2016-2019), but they are still pending before the House Basic Education and Culture Committee.
During a privilege speech on May 22, Versoza highlighted that students often work extra hours to complete their homework, and sometimes parents take up the responsibility of finishing their children's assigned tasks. He expressed concern about Filipino students being overworked compared to their global counterparts and cited recent reports indicating a lower average intelligence quotient (IQ) for Filipinos compared to the global average.
Versoza stressed that progressive countries like Finland, China, South Korea, and Japan have already reduced homework assignments for students and suggested that the Philippines should consider doing the same. He proposed that one hour of homework per day is sufficient to achieve satisfactory results, and increasing the workload may lead to stress for students and their families.
The lawmaker also drew attention to the disparity between wealthy and disadvantaged students in completing school tasks. He pointed out that children from wealthier households have better resources, such as computers, internet access, dedicated study areas, and educated parents who can assist them with homework. Conversely, children from disadvantaged backgrounds may have after-school jobs, lack parental supervision at home, or need to take care of siblings instead of doing homework.