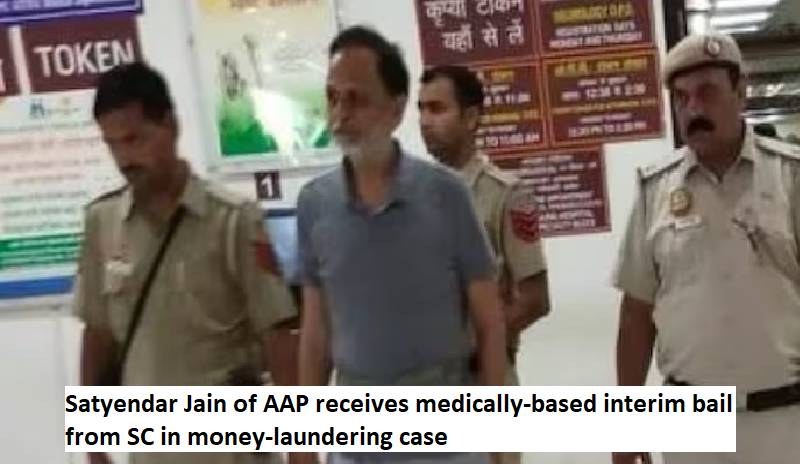 In a money laundering case, the Supreme Court on Friday granted interim bail to Satyendar Jain, a former minister of health in Delhi and current leader of the Aam Aadmi Party (AAP), for a period of six weeks. Since his arrest in May of last year on suspicion of money laundering, Satyendar Jain has been detained in Tihar.
The Supreme Court ruled that Satyendar Jain cannot leave Delhi unaccompanied and is not permitted to speak to the media. The Supreme Court demanded that Satyendar Jain, who was imprisoned, provide medical records before allowing him to receive treatment at the hospital of his choosing.
On Thursday, Jain was taken into the Lok Nayak Jai Prakash Narayan (LNJP) Hospital in Delhi after he passed out from dizziness in a toilet at Tihar Jail. His health began to decline, and he was eventually sent to the ICU.
According to the AAP, due to breathing issues, former Delhi minister Jain was initially admitted to the Deen Dayal Upadhyaya Hospital and then transferred to the Lok Nayak Jai Prakash Narayan (LNJP) Hospital. The former minister was brought to the hospital for the second time in a week.
Satyendar Jain has lost almost 35 kilogrammes of weight while being held, according to his attorney. The AAP leader was arrested by the Enforcement Directorate (ED) in May of last year for allegedly using illegal funds to purchase land and launder money through shell businesses. He has disputed the accusations and claimed they were made for political reasons.
'We are inclined to consider interim bail on medical grounds and grant him six weeks to take medical treatment in private hospitals of his choice. He is being released on interim bail on medical grounds on conditions imposed by the trial court with the addition that he shall not influence or meet with any witnesses,' the court said. This order shall remain in operation till July 11.
A senior jail official reported that on Thursday about 6 a.m., under-trial prisoner Satyendar Jain, who was being monitored for general weakness, slid in the MI room restroom of central jail number-7's hospital. Jain was rushed to the Safdarjung Hospital on Monday because he felt sick.
A picture of an obviously malnourished and frail-looking Jain sitting in a chair in the hospital with two police officers standing nearby was also tweeted by Arvind Kejriwal.
'I pray to god for his better health. The people of Delhi are watching the arrogance and atrocities of the BJP. Even god will not forgive these oppressors. In this struggle, the people are with us and god is by our side. We are followers of Bhagat Singh and our fight against oppression, injustice and dictatorship will continue,' he tweeted in Hindi.