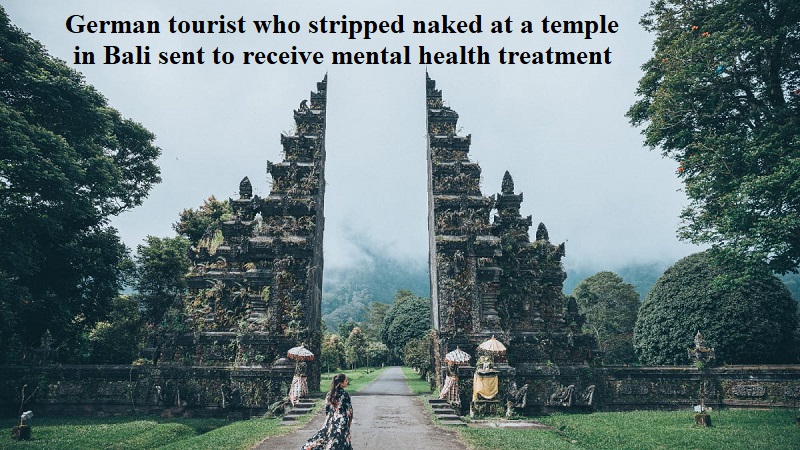 According to a report in the South China Morning Post, a German tourist who unlawfully entered and stripped naked at a temple in Bali during a sacred performance has been arrested and sent for mental health treatment by Indonesian authorities. The 28-year-old tourist, Darja Tuschinski, is also facing charges related to unpaid hotel bills during her vacation on the island.
This incident occurred at a time when Indonesia is enforcing stricter regulations for tourists who engage in misbehavior. The country has seen an increase in the number of foreign visitors who are deported for actions or gestures that are considered offensive to the religious sensitivities of Balinese Hindus.
Police spokesperson Stefanus Satake Bayu stated that the foreigner was suffering from depression due to a lack of funds to finance her stay in Bali, according to the South China Morning Post.
Videos and photos circulating on social media show the woman standing naked near the dancers at the Saraswati Hindu temple in Ubud. She also attempted to enter the inner sanctuary of the shrine but was stopped by a security guard. The tourist got into an argument with the staff members and forcefully entered the outdoor arena, where she stripped her clothes and stood near the dancers.
The Indonesian police have decided not to press charges against Tuschinski. However, she was found wandering naked around the resort where she was staying. She refused to board a flight back to Germany and was ultimately sent to a mental hospital in Bangli town.
It's worth noting that Indonesia recently passed legislation in December that criminalizes sex outside of marriage, with potential penalties including imprisonment. However, officials have clarified that tourists visiting Indonesia, including Bali, will not be subject to charges under the new law.
Bali's Governor Wayan Koster assured that there will be no marital status checks upon check-in at tourism accommodations, including hotels, villas, apartments, guest houses, lodges, and spas. Therefore, tourists visiting or residing in Bali need not worry about the implementation of the Indonesian Criminal Code in this regard.