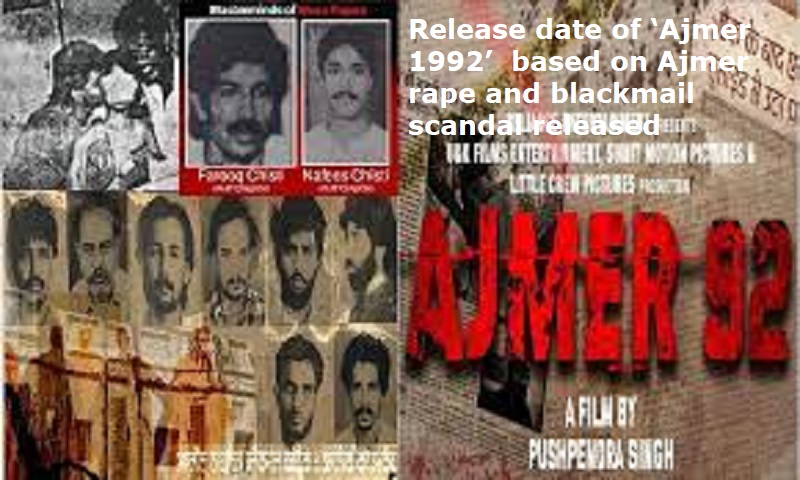 Mumbai: After 'The Kerala Story', yet another film based on real life incidents is getting ready to be  released. 'Ajmer 92', based on the Ajmer rape and blackmail scandal will be released on July 14, 2023.
The film directed by Pushpendra Singh narrates the story of Ajmer rape and blackmail scandal. More than 250 minor girls were trapped, sexually exploited and blackmailed for years by leaders in the city of Ajmer in Rajasthan in 1992. The accused included  caretakers of Ajmer Dargah, several influential men in the area and Congress  party leaders. It was  the largest rape scandals India. Most of the victims were from wealthy homes, the daughters of IAS and IPS personnel.
The film stars Karan Verma, Sumit Singh, Sayaji Shinde, Manoj Joshi, Shalini Kapoor Sagar, Brijendra Kalra, and Zarina Wahab, among others.
Also Read: Foreign exchange reserves of India decline to $593.477 billion 
'We made this film so that the entire country knows what the young college girls had to go through. This is all we have tried to show to the public,' said Sushil Sachdeva, producer of the film.
'I am grateful for being a part of such an important project. This project is important because societies need to timely re-affirm their unwavering support towards women and 'Ajmer-92' exactly does that,' said Pushpendra Singh.
Reliance Entertainment in association with U & K Films Entertainment, Sumit Motion Pictures and Little Crew Pictures is producing the film.
Ajmer case:
The incident came into light after a local paper, 'Navjyoti' published some nude images and a story about how school students  were blackmailed by local gangs. As per police, Farooq Chishti, a wealthy man belonging to the caretaking family of Ajmer Dargah groomed a young girl of Sophia Senior Secondary School and raped her. He took objectionable photographs of the minor and threatened her to introduce other girls to him. Later, those girls were raped and blackmailed.
Farooq Chishti was the president of the Ajmer Youth Congress while two other accused, Nafis Chishti and Anwar Chishti were the vice-president and joint secretary respectively of the city Congress unit. Several innocent girls were sexually exploited by the gang including many influential men in the area with political connections. The main culprits were associated with the Khadims, the religious caretakers of the Ajmer Dargah, and had power and political links, the matter was suppressed by the police.
As per reports, all the girls were between the ages of 11 to 20.  After sever protests, police arrested several accused in the case. After years of investigation, eight of the accused were convicted, including Chishti.