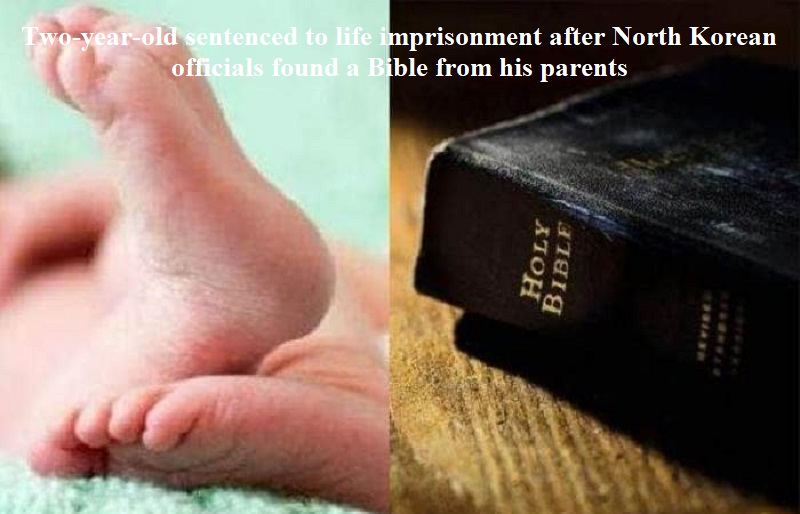 According to the US State Department's International Religious Freedom Report 2022, a two-year-old child in North Korea has been sentenced to life imprisonment after officials discovered a Bible belonging to the child's parents.
The report exposes the regime's crackdown on individuals with religious beliefs and reveals how North Korea, despite officially allowing freedom of religion, considers itself an atheist state and continues to suppress religious activities.
The family, including the child, has been imprisoned as a result of the incident, as stated in the report, which relies on information from non-governmental organizations (NGOs), human rights groups, and the United Nations. The report highlights the persecution of Christians, estimated to be between 200,000 and 400,000 individuals, under the rule of Kim Jong-un. It states that at least 70 Christians have been imprisoned thus far.
The report also reveals cases of North Koreans being executed for their Christian beliefs, including an incident in 2011 where a woman and her grandchild were executed by firing squad. It further describes the use of cruel torture methods such as "pigeon torture," where victims' hands are tied behind their backs, leaving them unable to sit or stand for days.
Victims also faced sleep deprivation, solitary confinement, starvation, dehydration, beatings, and being forced into painful positions for extended periods. The report quotes a victim who described the "pigeon torture" as the most painful of all tortures and expressed the sentiment that death would have been preferable.
While the report acknowledges that the North Korean regime has targeted practitioners of shamanism, it emphasizes that Christians have faced the harshest punishments. It reveals that North Korean Christians often hide their faith from their children due to fear of punishment and highlights the indoctrination of children in schools to report any signs of religious faith in their parents' homes.
The report cites the testimony of a defector who claimed that the government published graphic novels depicting Christians luring children into churches and taking them to basements to harvest their blood. This disturbing portrayal aims to demonize Christians and create fear and hostility towards them.
The International Religious Freedom Report 2022 sheds light on the severe persecution faced by Christians in North Korea, where religious freedom is severely restricted, and believers are subjected to harsh punishments, indoctrination, and even execution.