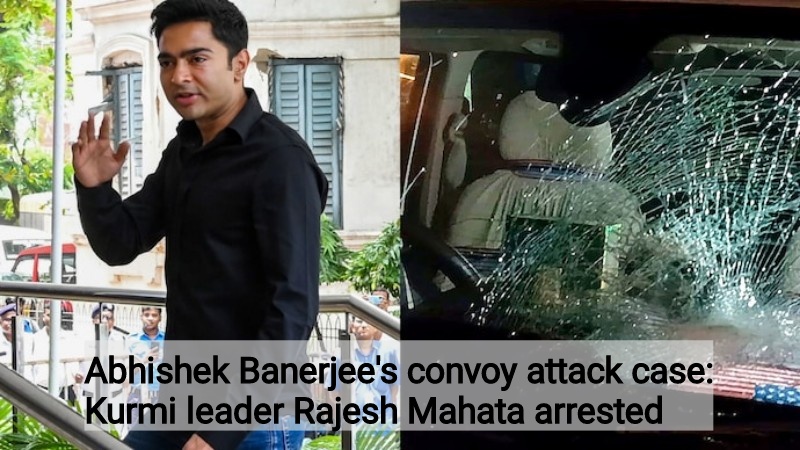 Rajesh Mahata, the chief of the Kurmi community, was one of up to five people who Jhargram police in West Bengal detained in relation to the attack on senior TMC leader Abhishek Banerjee's vehicle. Ajit Mahato, Anit Mahato, Manmohit Mahato, and Anup Mahato were named as the additional accused.
Stones were thrown at Abhishek Banerjee's convoy two days prior, and state minister Birbaha Hansda's vehicle was vandalised. After performing a roadshow at Jhargram town, they were driving to Gajimul near Lodhasuli when the event occurred.
Rajesh Mahata denied the accusations and asserted that "people from outside" were responsible for the attack, alleging that West Bengal police authorities are trying to link him to a fabricated case.
In a press conference, Rajesh Mahato claimed that some individuals were attempting to damage the reputation of their nonviolent protest.
'We do not support any kind of violence. We condemn this incident. Let there be a full investigation. Those who are conspiring to tarnish our peaceful movement, we strongly condemn them. No member of 'Ghaghar Ghera' is involved in the incident. Investigate the incident and punish the guilty,' he said.
Abhishek Banerjee demanded clarification from the Kurmi outfits, alleging that the BJP was responsible for the attack, and given them a '48-hour ultimatum' to do so.
Meanwhile, a fight broke out when assistant teacher Rajesh Mahata was moved from Banapur High School in Kharagpur to Cooch Behar. The state government's relocation has been denounced by the BJP as 'an act of suppression.'
Suvendu Adhikari, the head of the BJP and the opposition leader in West Bengal, posted on Twitter, 'A well known face of the Jungle Mahal; Shri Rajesh Mahata; Assistant Teacher of Banapur High School; Kharagpur has been vengefully & arbitrarily transferred to Cooch Behar by this vindictive State Govt. This autocratic decision has been taken without adhering to any norms. I strongly condemn this Transfer, which is nothing but an act of suppression, committed by the WB Govt. I request the Democracy loving people of WB to kindly raise their voice against such vicious & wicked act, which is being committed with the sole intention of silencing democratic voices.'
According to TMC district president for Jhargram Dulal Murmu, Chief Minister Mamata Banerjee has invited senior party officials to Medinipur. The TMC district committee has also scheduled an emergency meeting for Sunday.