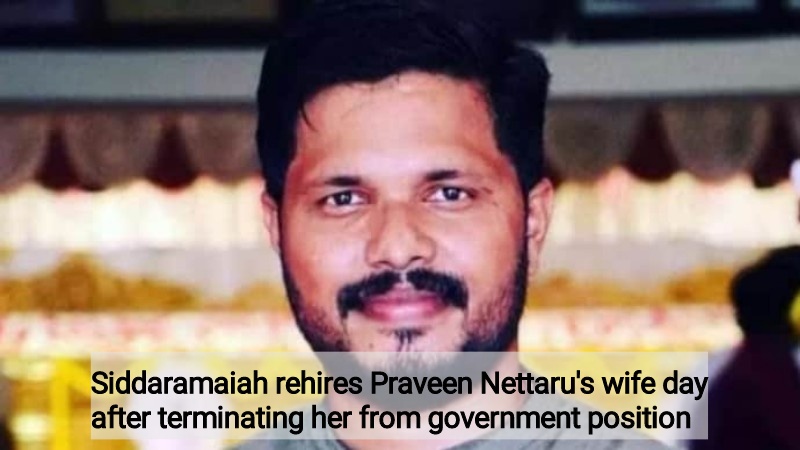 On 'humanitarian' reasons, Karnataka Chief Minister Siddarmaiah reappointed Nutan Kumari to her position as the wife of deceased Bharatiya Janata Yuva Morcha (BJYM) leader Praveen Nettaru. Following a shift in leadership, Kumari was let go from her position as deputy commissioner in Dakshina Kannada on Saturday after being offered a contract-based temporary position.
'After a new government comes in, it is a natural process to dismiss the temporary employees who were appointed by the previous government from the government service,' Siddaramaiah said in a tweet in Kannada. 'Not only Praveen Nettaru's wife, more than 150 contract workers have already been dismissed from service. There is no government interference in this,' Siddaramiah tweeted, adding, 'Considering this as a special case, Kumari will be re-appointed on humanitarian grounds.'
The Popular Front of India (PFI) is accused of killing Praveen Nettaru, a 31-year-old BJYM leader, in Ballary in July 2022.
Following his passing, Nalin Kumar Kateel, the MP for Dakshina Kannada and state president of the BJP, requested that his widow Kumari be appointed on a temporary basis for humanitarian reasons.
She was appointed as a senior assistant (Group C) in the office of the then Chief Minister Basavaraj Bommai by an order of the BJP administration on September 22, 2022. On October 14 of last year, she reported for duty after being later posted to the Dakshina Kannada deputy commissioner's office at Kumari's request.
According to the appointment order issued at the time, she would remain in her position until the current chief minister resigned or until future orders.