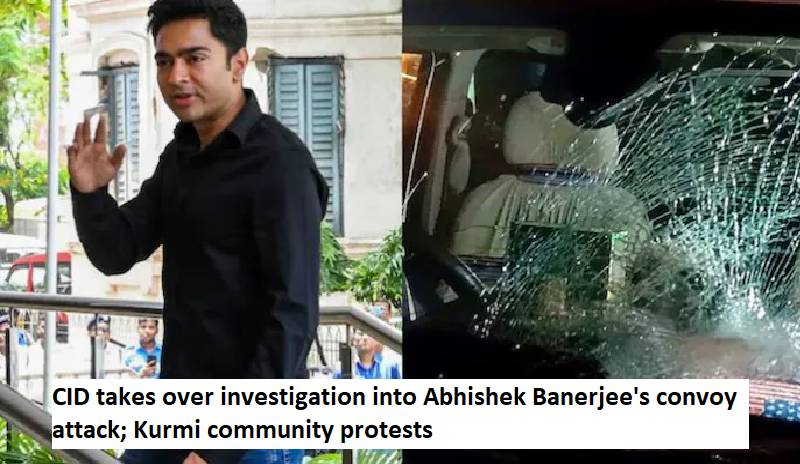 The investigation into the convoy attack case involving Trinamool Congress leader Abhishek Banerjee was taken up by a team from the West Bengal Criminal Investigation Department (CID). A second accused in the case was taken into custody.
On May 26, protesters in Jhargram district attacked the TMC leader's convoy.
The CID has requested the case diary and other information from the Jhargram police. The incident was allegedly carried out by Kurmi community protesters.
Members of the Kurmi community in West Bengal's Junglemahal district started protesting in various locations around this time. To decide on the following course of action, they have scheduled a meeting for Monday.
Rajesh Mahata, the chief of the Kurmi community, was one of five people earlier detained by Jhargram police in connection with the attack on Abhishek Banerjee's vehicle. Ajit Mahato, Anit Mahato, Manmohit Mahato, and Anup Mahato are identified as the additional accused.
Stones were thrown at Abhishek Banerjee's convoy last week, and state minister Birbaha Hansda's vehicle was vandalised. After performing a roadshow at Jhargram town, they were driving to Gajimul near Lodhasuli when the incident occurred.
According to Abhishek Banerjee, the BJP was allegedly behind the attack. He had previously claimed that BJP members posing as Kurmis attacked the convoy. Mamata Banerjee, the chief minister, also stated that the BJP was responsible for the assault.
Kharagpur-based teacher and Kurmi leader Rajesh Mahato was taken into custody in connection with the case. Rajesh Mahato was moved to a school in Cooch Behar in the midst of the ruckus. Since his imprisonment, members of the Kurmi community have protested in various villages and areas.