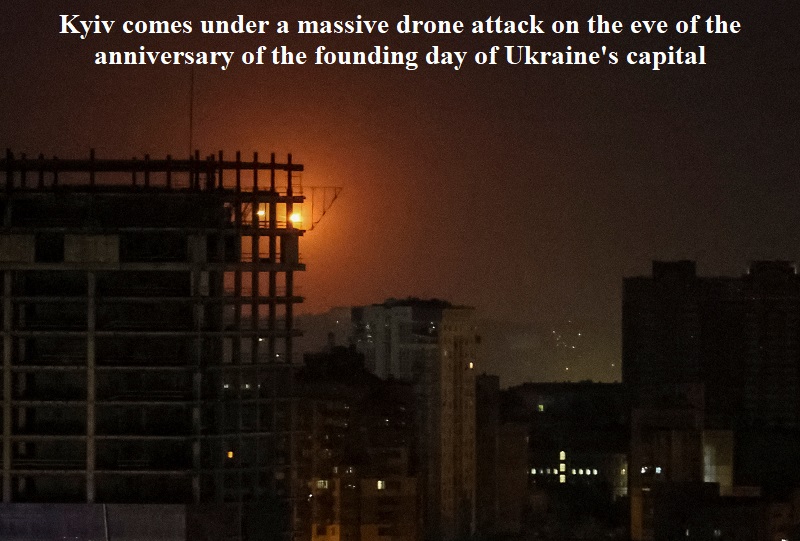 On the eve of the anniversary of Kyiv's founding day, the city experienced what was described as a "massive drone attack."
The mayor of Kyiv, Vitaliy Klitschko, confirmed that a 41-year-old man died when debris from a seven-story non-residential building fell on him during the drone attack. A 35-year-old woman was also hospitalized due to the incident.
In addition to the casualties, two high-rise buildings in different districts of the capital caught fire after being struck by falling drone fragments. Warehouses in the southern Holosiyivsky district were also set ablaze.
According to Ukraine's Air Force, Russia launched a total of 54 Iranian-made kamikaze drones at Ukraine, with 52 of them being successfully shot down. Ukrainian officials hailed their air defense capability in response to the attack.
Senior Kyiv military official Serhii Popko referred to the drone attack as the most massive attack on the city, highlighting the use of Iranian-made Shahed drones by Russia.
President Volodymyr Zelensky praised the efforts of the air defense, recognizing the lives saved by shooting down enemy drones and missiles.
Ukrainian officials accused Russia of deliberately targeting Kyiv as the city was preparing to celebrate Kyiv Day, which commemorates the city's foundation over 1,500 years ago. Ukraine's chief presidential aide, Andriy Yermak, referred to the historical significance of Ukraine as a point of contention for Russia.
Anticipating further air attacks, Ukraine activated air raid alerts in 12 regions of the country. Russia has been increasingly using kamikaze drones, as well as cruise and ballistic missiles, to target Ukraine.
As Ukraine prepares for a counteroffensive, the frequency of attacks has been on the rise. Oleksiy Danilov, the secretary of Ukraine's National Security and Defense Council, stated that the country was ready to launch attacks against Russia to retake occupied territory.