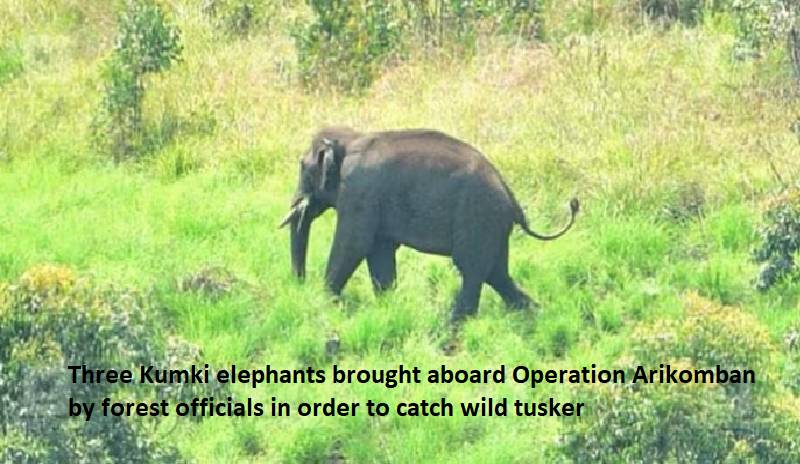 The Tamil Nadu forest department and police authorities carried along three Kumki elephants as part of their mission on Monday in an effort to make a second capture of the wild tusker Arikomban.
Elephants trained for kumki operations are used to trap wild elephants.
In order to catch the tusker, the 150-member forest guard squad is currently integrated in the Surulipatti village of the Theni district. The crew agreed to dart Arikomban if it entered the inhabited area once more.
The monitoring of elephants has been stepped up by the forest ministries in Tamil Nadu and Kerala. On Saturday, Arikomban was able to leave the Periyar Tiger Reserve and wander into Cumbum in the Theni district of Tamil Nadu. There, he attacked a human and damaged property, which fueled the search for him.
He was moved last month from Chinnakanal in Kerala's Idukki district to Periyar Tiger Reserve. The tusker's trail of mayhem during the search began when he began to get dangerously close to homes in Kerala's Kumily and continued until he entered Theni in Tamil Nadu.
The elephant entered the Lower Camp on Friday night and reportedly destroyed fields in Kazhuthumuttu, a nearby area in Kerala's Kochi, despite the fact that the forest officers were able to drive him back into the forest by firing into the air.
The neighbourhood residents were warned and advised to stay indoors. Paulraj, the victim of the giant's attack, is currently receiving treatment after suffering serious injuries.
Arikomban must be captured by state agents before being released in a thick forest. Arikomban has also suffered a trunk injury.
After causing damage in the Idukki area, the rice-eating tusker was tranquillized and moved to the Periyar Tiger Reserve forest on April 30.