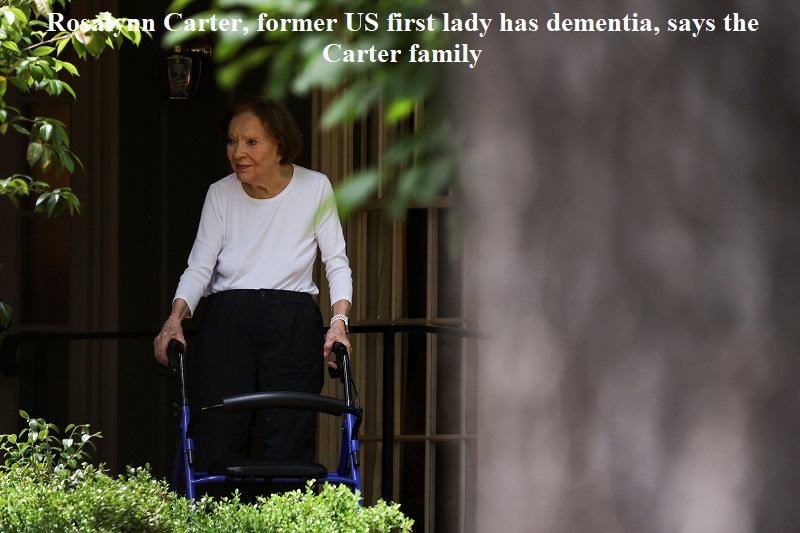 Former US First Lady Rosalynn Carter has been diagnosed with dementia, according to a statement released by the Carter family on May 30. The family expressed that despite the diagnosis, Rosalynn continues to live happily with her husband, former US President Jimmy Carter, enjoying the spring season in Plains, Georgia, and cherishing visits with loved ones.
At the age of 95, Rosalynn Carter joins her husband, who has been receiving hospice care since mid-February. The family hopes that by publicly sharing information about Rosalynn's dementia, they can help reduce the stigma associated with the condition. They believe that this disclosure will lead to important conversations about dementia taking place in households and medical offices across the country.
The Carter family further stated that they do not plan to provide any additional updates and kindly requested understanding for their family and all caregivers nationwide. Following Jimmy Carter's nonprofit foundation announcement on February 18, in which he expressed his decision to spend his remaining time at home after several hospital stays, the Carters have limited their visits to only close friends and family.
The statement does not provide specific details about the severity or progression of Rosalynn or Jimmy Carter's conditions. However, it highlights their enduring marital relationship, which spans nearly 77 years, making them the longest-married first couple in US history. The couple has often emphasized their partnership throughout Jimmy Carter's political career and his public life thereafter. Rosalynn Carter has been an advocate for mental health awareness and has dedicated herself to supporting those affected by mental illnesses, as well as caregivers.
Rosalynn Carter played an active role in her husband's political campaigns, including his bid to become Georgia governor and later president. During her time in the public eye, she used her platform to raise awareness about mental health issues. Born as Elenor Rosalynn Smith in Plains on August 18, 1924, she shares a unique connection with Jimmy Carter, as she was delivered by his mother, who was a nurse, in her family's home. As a preschooler, Jimmy met Rosalynn just a few days after her birth, marking the beginning of their lifelong journey together.