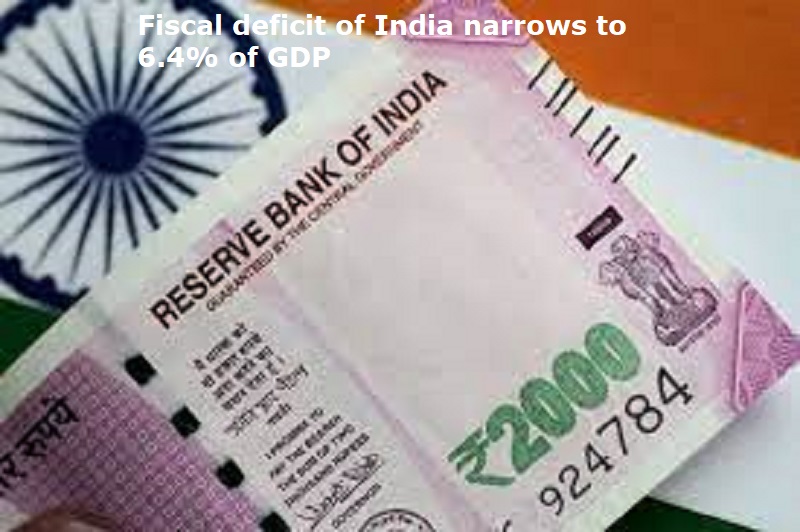 New Delhi: Data released by the Controller General of Accounts (CGA) revealed that the Union government's fiscal deficit narrowed to 6.4% of the GDP in 2022-23. It was at 6.71% of the GDP in last fiscal. Fiscal deficit is the gap between the expenditure and revenue collection. It is a key indicator of borrowing.
In this year's  Union Budget, the government aimed to reduce  the fiscal deficit to 5.9% of the gross domestic product (GDP) during the current financial year 2023-24.
As per CGA's revenue-expenditure data of the Union government for 2022-23, the fiscal deficit in absolute terms was Rs 17,33,131 crore (provisional), marginally down from the amount projected in the Revised Estimates (RE) in the Budget.
Also Read: Manufacturing output of India rises to 31 month high in May 
The government received Rs 24.56 lakh crore (101% of corresponding RE 2022-23 of total receipts) during 2022-23. It comprised Rs 20.97 lakh crore tax revenue (Net to Centre), Rs 2.86 lakh crore of non-tax revenue and Rs 72,187 crore of non-debt capital receipts. Non-debt capital receipts consist of the recovery of loans and miscellaneous capital receipts.
About Rs 9.48 lakh crore has been transferred to state governments as devolution of taxes by the central government, which is Rs 50,015 crore higher than the previous year (2021-22).
The Union government's total expenditure was Rs 41.89 crore (100% of corresponding RE 2022-23), out of which Rs 34.52 lakh crore was on the revenue account and Rs 7.36 lakh crore on the capital account. Out of the total revenue expenditure, Rs 9.28 lakh crore was on account of interest payments and Rs 5.31 lakh crore towards major subsidies.
Meanwhile, the revenue deficit for the fiscal ending March 2023 was 3.9% of GDP while the effective revenue deficit worked out to be 2.8 per cent of GDP.